Varsity Basketball Teams Lose First League Games against Crescenta Valley
Nitro varsity ballers crushed by the Falcons on opening night of Pacific League play
On Friday, December 3rd, the Glendale High School girls and boys varsity basketball teams played at home against the Falcons of Crescenta Valley High School. This was the opening night of the Pacific League. Both GHS teams lost their games against the Falcons, with the girls final score of 45-59, and our boys losing 48-74. 
During this big event, concessions remained open, and our cheer squads were selling fan pom-poms for a dollar.  GHS drum major, Carmelo Xavier Geron, also performed the National Anthem between the two games. Nitro fans also came out into the stands to support our teams, including former assistant principal, Mr. Mark Rubio.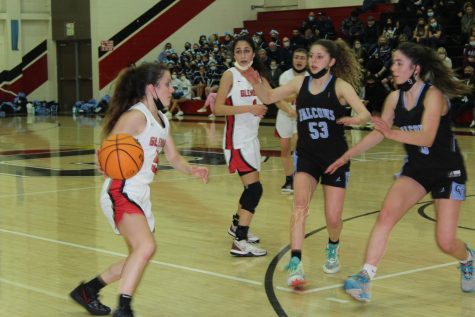 Girls Varsity
The starting line up for our girls squad were Sella Koshkerian (#1), Carmen Avedian (#5), Jane Bassil (#23), and senior co-captains Cherilyn Legaspi (#15) and Sarine Kaloghlian (#20). 
Our girls did amazingly well at the beginning of the game. Kaloghlian scored the team's first 3 points, and Koshkerian executed a rebound basket, setting the score to 10-5. At one point during the second quarter, both teams were tied at 17-17. Lots of free throw shots were being made, but that didn't stop the Falcons from eventually catching up and taking the lead for good in the second half.
Boys Varsity
The starting line up for our boys squad were Mo Shareef (#0), Dior Pierre (#4), captain Jahir Ponciano (#12), Christian Pierre (#15), and Hovany Nazaretian (#24).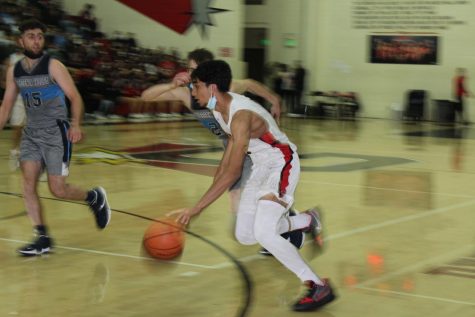 Shareef scored the team's first two points, followed by a 3-point shot from Pierre. Tino Zadorian (#20), also took a steal from the Falcons in the fourth quarter. However, the Falcons built a huge lead throughout the game, but that also didn't stop our boys from picking up the pace and putting in a great effort, just before the game ended.
Despite both teams' losses, they played hard until the end. Don't miss both our varsity teams' next home games, as they continue their season and take on the Bears of John Burrough High School on Tuesday, December 7th.
Hang in there, Nitros!