Encanto
Disney's 60th animated film is a story about the magical struggles of a Colombian family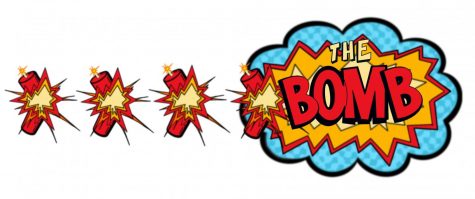 The newest Disney movie Encanto was released in movie theatres on November 24, 2021. The 60th Walt Disney Animation Studios film was directed by Byron Howard and Jared Bush, and features the voices of Stephanie Beatriz (Mirabel Madrigal), John Leguizamo (Tio Bruno), and Maria Cecilia Botero (Abuela Madrigal). The movie will appear in theatres for only 30 days, due to the COVID-19 pandemic, and it is going to be released on Disney+ on December 24, 2021.
This animated comedic musical provides a fun experience for people of all ages, by presenting a great combination of big family struggles and varied elements of magic. If you are a Disney fan and want to see the adventures of a Colombian family, then watching this film is a must!
A long time ago, Alma Madrigal, her husband Pedro, and their three little babies were forced to flee their Colombian town because of the conquistadores. Pedro died fighting them off in order to save his family, and Alma was so distraught that a candle that she was carrying became a part of an enchantment (in Spanish, encanto) that from then on surrounded her family. 
The enchantment consists of an isolated paradise created in the middle of Colombia, at the head of which is the Madrigal family in their magical house (or Casita). When each member, starting with Alma's children, come of age, they open a magic door which enhances them with a certain gift that allows them to be of use to the family and the town. The tradition carries on through many members, but it mysteriously stops at Mirabel Madrigal, Alma's granddaughter and the main character. Her door simply disappears, leaving her with no magical gift.
As she comes of age and the younger members of the family continue to receive their gifts, Mirabel attempts to find out what role she plays in her magical family. But once her siblings' magic starts to falter, and the strong Casita starts to crumble, Mirabel finds out that she might be the key to saving her family from their demise.
This movie is a very interesting one, and apart from the plot, the character dynamics are also very captivating to observe. Representative of big Latino families, this movie features Mirabel's grandmother, aunt, uncle, and several cousins. Each character is well fleshed-out, with their own personalities, flaws and abilities. Their interactions are a wonder to witness, from the casual bickering of cousins and siblings, to the moments when the family has to unite to face their hardships. 
Each member of the Madrigal family has a power that corresponds with a different persona that is associated with some aspect of family dynamics. For example, Mirabel's mother, Julieta (Angie Cepeda), has the ability of healing people with her food, just like many mothers are seen as capable of healing any physical or emotional wound through their cooking. Furthermore,  Mirabel's cousin Dolores (Adassa) can hear everything, and therefore knows all the gossip, or chisme, that teenage girls tend to engage in.
The animation in this movie is also very well done. The look of the film is very colorful and bright, with enough character diversity to make the family believable. Character outfits are also very well designed, with everyone wearing something unique that somehow also represents their personality.
And oh, the music! The soundtrack for this movie, composed by Lin-Manuel Miranda (Hamilton, Moana), is absolutely exquisite. I love seeing how different members of the Madrigal family, and not just the main character, are a part of the songs as well. 
One of the best songs is "Surface Pressure", sung by Luisa (Jessica Darrow) Mirabel's sister, who is blessed with the gift of supernatural strength. The song talks about how much pressure Luisa feels, because she is the oldest and strongest sibling, and how she is afraid that if she does not help everyone all the time, she will be useless. Although this song refers to literal strength and pressure, it is easy to relate it to the struggles that all older siblings feel when they carry the family weight on their shoulders.
Another song that sticks out is "Waiting on a Miracle", performed by Mirabel herself, when she expresses her frustration over being the only family member without a magical gift. It reflects on how left out she feels, because she is different from everyone else, and how no one seems to understand her struggles. Undoubtedly, many of us have been in Mirabel's position, and this song truly illustrates the feelings experienced in those moments.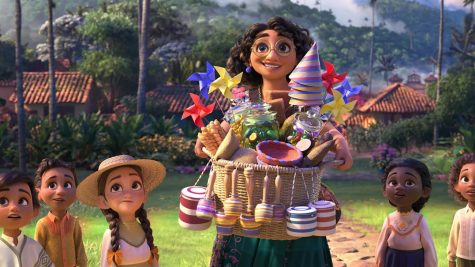 Finally, the song at the end of the movie, "Colombia, Mi Encanto" performed by Carlos Vives, reminds the audience of what culture the movie overall reflects. It is very lively and upbeat, as is all of Colombian culture, and it wraps up the movie beautifully.
Disney is not as obvious with its cultural references in Encanto as they have been in other movies, like the movie Coco, which centers around the Mexican holiday of Dia de los Muertos. However, there are a few nods to Colombian culture throughout the film. Coffee, which Colombia is very well-known for, is discussed several times throughout the story, and arepas are also mentioned. The Casita itself is based on colonial houses in Colombia, and the flora and fauna of the country are represented through the grand variety of plants and animals that are portrayed in the film.
Overall, this movie is definitely worth a watch. It combines many different elements–terrific music, lively characters, great animation, and an interesting plot–into a great cinematic experience. And if you think you are too old for Disney movies, think again. (Even my dad, a very serious person, loved this masterpiece!)
Personally, I do not think I will ever stop watching Disney movies, because even though I am an adolescent, when I sit in front of that screen, I become a little girl once again, eager to see the magic happen. And even though it seems impossible for any new creation to replace our childhood favorites, we should always keep an open mind and give new Disney movies a chance. Who knows, we might just end up loving them more than our old favorites!
And it's wonderful that this movie was released during the beginning of the holiday season, which is always associated with family, because this aspect of life is one of the biggest elements of the film. Share the joy of this new Disney classic with your family! I promise you won't regret it!