Celebrate Filipino-American History
Filipino-American History Month is recognized annually in October
Filipino-American History Month commemorates the landing of the first Filipinos in the United States on October 18, 1587, in Morro Bay, California. This month also highlights the history, pursuits, and accomplishments of Filipinos in the United States. 
The very first Filipino-American History Month was celebrated in October of 1992, and the idea was first brought on by the Filipino American National History Society one year earlier. It was only in 2009 that the United States officially recognized October as Filipino-American History Month.
The first Filipinos who landed in the US docked in Morro Bay on Spanish trading ships during the Manila-Galleon trade era, and the trade route itself lasted from 1565 to 1815. The landing party included Luzon Indios, indigenous Filipinos, and the sailors who worked on board. 
Manila Galleons were the ships used for this trading era. These ships linked the Spanish Captaincy General of the Philippines with Spanish Mexico across the Pacific Ocean. During annual voyages, said ships held things such as silk, porcelain, spices, fine woods, fabrics, and vases from all across Asia. 
During the peak of the galleon trade, Manila became one of the world's most substantial ports. But even though this was the case, this trade grew to harm the economical development of the Philippines, due to all Spanish capitals becoming devoted to Chinese goods. This led to the Philippines having zero benefit, even though their vessels were being used. The dependency that Spaniards in Manila had on the annual vessel grew so large that when a ship would have an unsuccessful journey, due to ships sinking or being ambushed by English marauders, the colony's economy plummeted rapidly.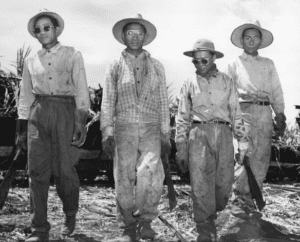 The first wave of Filipino-American immigrants occurred in 1899, following the US annexation. In the early 1900s, the majority of Filipino-Americans immigrated to Hawaii or the West Coast of the US. In these locations, it was typical for them to work in agriculture, and some people immigrated for educational purposes as well. 
The second wave was due to World War II. In the 1940s, Filipino men were recruited to the US Military with the United States, because they were promised citizenship for their service. In the same era, the War Brides Act was passed, which allowed the spouses and children of male Filipino militants to come into the United States. This was a huge stimulant for the population of Filipinos in the United States.
In 1965, the Immigration and Nationality Act commenced, which spiked immigration rates from many countries, including the Philippines. Today, Filipinos are the third-largest Asian ethnic group in America, holding careers in the medical field, management, business, science, and the arts. 
The overall Filipino-American experience is very unique, and immigration has played a monumental part in it. Acknowledging Filipino-American History Month should hold the same manner of importance as all other national observances. It helps us learn how past societies, systems, governments, and the rise of ethnic minority groups in America came about.