Rita Mallalah Plans to Globally Impact the World
Join our GMG club president with helping people in need in Glendale–and around the world!
Rita Mallalah is a senior at Glendale High School, and she is the president of the Global Mindset Group. She was born in Iraq, and she was raised in Syria. Rita moved to the U.S. when she was ten years old. 
Outside of school, Rita's hobbies include running outdoors, playing basketball, and weightlifting. On campus, she is serving as the ASB Director of Finance, she is a member of the girls' basketball and track teams, and she is also a part of various other clubs on campus. 
Rita explains that the Global Mindset Group is a club that does "a lot of community service throughout the year." Their club advisor is Mrs. Keefer, and the other club officers are Sarine Kaloghlian, CJ Calica, and Jeta Cooper. 
In the past, this club has held a few outdoor activities and fundraisers. Before the pandemic, Rita said that they have worked with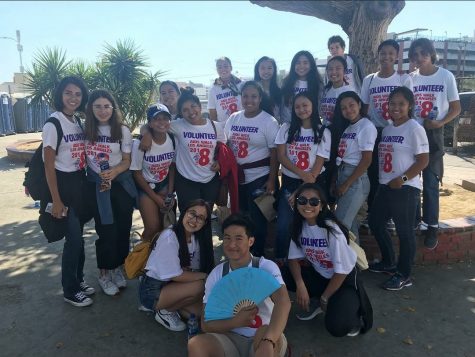 the Samaritan's Purse organization, to help pack Christmas gifts full of basic essentials. These gifts are then given to children in need. In 2018, GMG members also participated in the Aids Walk LA event, to help spread awareness about HIV and AIDS. 
Rita has been a part of GMG since her freshman year. She expressed that her experience with the club last year "was really difficult" because of distance learning. This year, Rita plans to collaborate with other clubs at school, since many of our clubs provide similar community service opportunities as well. 
GMG also plans to do advocacy work for individuals with autism. They want to partner up with Luv Michael, an organization that sells granola bars that are made by autistic individuals. As a club, GMG will help fundraise for this organization by sending text messages to people and encouraging them to buy those granola bars. The funds that this organization receives will help them pay their workers who are autistic. 
To get more students involved with GMG, Rita wants to help students understand that they are capable of becoming "an influence on somebody or some purpose that's beyond themselves." As high school students, we may think that we have very little resources to make a change. But even helping a small group of people within our community "is meaningful and valuable."
In the near future, Rita claims that she wants to major in Kinesiology at Rice University, because she is really interested in the science behind exercise. She explains that a former knee injury "sparked my interest in that field." Seeing how she was able to progress over time, after going through a lot of physical therapy, inspired her passion in physical education. 
If you are interested in joining GMG, or if you would like to know more about it, you can follow them on Instagram at @glendalegmg. Or you can email Mrs. Keefer at [email protected]! Act locally and think globally, Nitros!