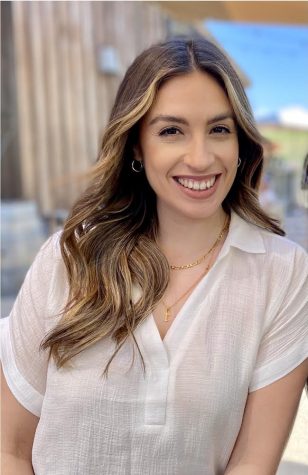 Ms. Rachel Garcia is a new 11th grade English teacher at Glendale High School. She was born in Berkeley, California and grew up in Montebello for most of her life. She has also lived in Houston, TX and in Oakland, California before moving to Glendale. 
Ms. Garcia's favorite hobbies include working out, doing yoga, reading, binging a good show, and trying new places to eat. She is obsessed with chicken sandwiches. She also loves Harry Potter and her favorite book is Chamber of Secrets. 
Did you always want to be a teacher, or more specifically, an English teacher?
I always worked with kids. I did a lot of after-school programs and daycare. I am also the oldest sibling. I was always around younger kids. I was good at building relationships with kids and understanding them, because I used to substitute and I thought, "Hey, I can do this in the classroom." 
Specifically, as an English teacher I have always loved reading, and books were my favorite things growing up. Having great English teachers in junior high and high school really sparked my interest. 
What schools did you attend? 
I went to La Serna High School in Whittier CA. "Go Lancers." I went to East LA College (ELAC). I then transferred to Cal State LA, where I got my bachelor's in English Literature. 
Then I did my teaching credential at Azusa Pacific University.  Then I got my Master's in food studies at the University of the Pacific. 
Food studies is studying [the] anthropological and sociological importance of food. Connecting food to culture and how it defines who we are and how we move about the world. It's a cultural look at food and how it shapes our identities. A goal of mine is to incorporate more food literature into the classroom.
What was your journey before coming to GHS? 
I went from wanting to be a writer or registered dietitian. I was really into health, fitness and nutrition. Then I got into hospitality and restaurants. I like a lot of things, and I'm good at a lot of things, which made it hard trying to pick one thing. But through all that, COVID put a lot of things in perspective for me, which kind of pushed me back to wanting to teach. 
What are you most excited about working at GHS?
I'm most excited about building relationships with the students and getting to know all of you; of course teaching you, but also to just be there for [you], especially since this is high school and the whole COVID situation. It's nice to provide support. 
Of course, all the sports. I'm excited to go to the football and basketball games, especially the girls basketball ones. I played basketball for 10 years, and I was a shooting guard. But I also coached, so it will seem fun. I'm excited. 
What jobs did you have before getting into education? 
My very first job was at Boarders, the skate shop. I used to skate, and the closest I got was a kickflip. I used to think I was so cool, because I knew how to put grip tape. [I also held] lots of after-school program jobs and worked at a daycare for 6-month-old babies to 5-year-old kids. I was a nanny. In the last 7 years, I've worked at just restaurants, [as a] server and host. I love the food industry. 
Ms. Garcia overall feels very excited and welcome here at GHS. She hopes she can establish relationships and connections with her students, teach them all that she knows and help them. She said, "GHS is going to be fun and really exciting."
Please help her feel welcome, Nitros!