Aya Baker Has Her Eyes on the Goal
Senior captain hopes to bring more success to the girls soccer squad
Aya Baker is a senior at Glendale High School, and she is one the captains of the girls varsity soccer team. She was born in Japan, and she also loves playing on the GHS lacrosse team. She has been playing lacrosse for five years and soccer for eight years. 
How did you first get involved in playing soccer?
My dad had me playing soccer really young. I first started playing [through the] AYSO, because my dad made me. Then in third grade, I joined a club and I played until my sophomore year. I quit so I could focus more on lacrosse. But I still played in high school. 
What are some accomplishments you have achieved as being a part of this team?
Being captain and getting rookie of the year my freshman year and that's like the only award I've gotten. So it makes me feel honored and accomplished on what I've done so far. 
How and why did you become captain?
I've been on varsity since freshman year, and I'm pretty good at leading. Just being on varsity for so long gives me what I need to be captain.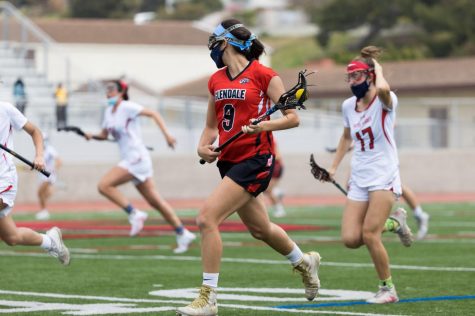 What happens during your team practices? 
With our new coach [Ceci] we've been doing a lot of conditioning. We do a lot of running, soccer drills, passing drills, and shooting. Mostly we do scrimmaging, because the coach is new and trying to adjust to what position everyone can play. Also we are trying to find a better team dynamic.
What is your favorite part of being a member of the team? 
Definitely the players. I really like our team. We're all really good friends, which makes the games and practices more fun. We like to cheer everyone on, and it's nice to know everyone has your back. I think that's the nicest part about being on a team in general, especially the soccer team.  
For any future athletes that would like to join our girls soccer teams, feel free to contact Coach Cecilia Javier at [email protected].