Zachary Jaramilla Is Keeping It in the Fairway
Nitro golfer's season was another swinging success
Zachary Jaramilla is a senior who plays for our Nitro boys golf team. A fun fact about him is that he was also on a swim team before he joined golf. This team is called Vision Swim, in both Van Nuys and Sherman Oaks. 
Zachary grew up in North Hollywood and then moved to Glendale late in 2016. But besides golf, Zachary loves playing video games, watching anime, and doing video photo editing. His favorite anime are Love Live, Demon Slayer and Persona 5. His favorite video games are Super Mario, Minecraft, and Super Smash Bros. 
How'd you first get involved in playing golf?
I was playing my Nintendo 3DS and I saw this game called Mario Golf: World Tour. I just got really into it. I also got into golf because of this cartoon, Tom and Jerry. But I didn't have a golf club, so I just found something that looked like a golf club, which was a hockey stick and ping pong balls. And I made holes in the backyard. My parents would see me and just thought, "Oh hey, I think Zach really likes golf, so we should buy him actual golf clubs and golf balls.'' 
Have you played anywhere else besides Glendale? 
I was into this golf school. It is called the Tregnan Golf Academy. I was into that program until freshman year, and I have been on the golf team since I was a freshman.
How long have you been playing golf?
I have been playing since 2016… for 7 years. I have self-taught myself, but I'm glad I have my coaches to teach me as well.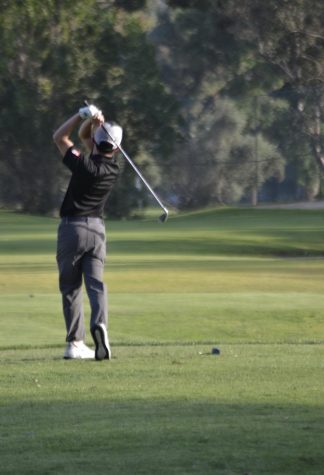 What happens during team practices? 
Usually we practice for an hour or two. My coach has a schedule for us on what we're going to do that day. It's either a golfing range or [we] practice putting. We also practice chipping, or we play nine holes. And we go through them fast, because there are not that many holes, and there are other groups waiting for their turn…But all our coaches want is for us to have fun while playing. 
The golf team has been amazing this year, and we are so glad to have Zachary on the team and part of our Nitro community. If you are interested in joining the golf team next year, please contact Coach Anthony Mohr, at [email protected], for more information.