Vans Vs. Converse
Which is the better shoe option for you?
Debating on what pair of shoes to buy: Converse All-Stars or Vans?
These are two popular shoe brands that most of us already own. But have you ever thought which one is better? In comparing these two shoes, I will be discussing the durability, comfort, price and overall style of each shoe. Hopefully, this will help you to make the right footwear decision in the future.
Durability
Vans are durable due to the fact that a lot of their styles are made for skateboarding. Skateboarding requires a reliable and sturdy shoe that is flexible. The downside to Vans is that they do seem to tear on the top by the toe. 
Converse shoes, on the other hand, are flexible and lightweight. This allows for easy movement. Converse Chuck Taylor's were originally designed for basketball players. They have a rubber toe cover at the front, which protects the fabric from tearing.  
WINNER: CONVERSE! They can last and be worn even when they're starting to tear. 
Comfort
Vans are perfect for most everyday activities. They have a high level of comfort, and support your feet due to the thickness of the sole. You can wear these shoes all day and still be comfortable. Dressing up or dressing down, you can pull off Vans for an all-day look. 
Converse All-Stars have a comparably thinner sole. They are comfortable, but not for long periods of time, due to the lack of arch support. Converse shoes are not very reliable on supporting your feet. However, they can be worn on any occasion and are often seen on the feet of important people, like our Vice President, Kamala Harris. 
WINNER: VANS! Let's face it, we young people wear Vans, but only adults can pull off Converse as a comfort shoe. 
Price
The cost of a pair of Vans ranges between $40 and $70. However, Converse prices also range between $40 and$70. Since these prices are so similar, this comes down to a tie between Converse and Vans in this price category. 
WINNER: A TIE!
Style
So now it all comes down to your style options.
Converse are a flat shoe with a rubber toe. They are available in multiple colors, and they can be customized online. Converse lace up, and some have two small vent holes on the side. Whether it's a high too or a low top, they all look basically the same. 
Vans are also a flat shoe. However, they came in many different styles. They can be solid slip-ons or with laces, and there are many prints available. Vans also offer customizable shoes online in all of their styles. Each show type looks different, so you can decide which style fits your lifestyle more.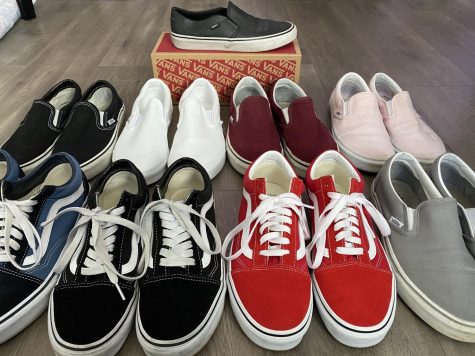 Winner: VANS! With the different options available, Vans offer you more styles, colors and prints.
Overall Winner
VANS! Style and comfort are definitely important, so please take them into consideration the next time you head to the shoe store! Show off your Vans with pride!