Disneyland Is Back!
The Happiest Place on Earth has reopened its doors, but what do you need to know before you go?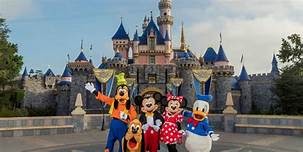 If you haven't heard already, Disneyland and Disney California Adventure are now open, just in time for summer vacation! The Disneyland Resort had closed its doors last March, due to COVID-19. However, as of April 30th, 2021, California residents can purchase tickets and reserve a date to visit either theme park. The parks are now open with limited capacity and some restrictions on rides, which is lightening up as time goes by. 
When Disneyland first reopened this past April from the hiatus due to the pandemic, they were restricted to 25% capacity. However, beginning June 15th, the parks will be back to 100% capacity. 
What does this mean to us? Well, let me break it down for you.
Disneyland now requires reservations. This means that once you purchase your ticket, you would need to look for an available reservation day. Until June 15th, only California residents are allowed to visit the theme parks. Proof of residency will be required and groups can only be up to three households. 
Masks are still required at this time at Disneyland and California Adventure for any guest over the age of 2. According to the Disneyland website, "As always, our procedures may change as we continue to update our health and safety processes based on guidance from the state of California and local health officials." 
Fortunately, most rides in the parks are open. There are a few that are closed for refurbishment, and others are marked as temporarily unavailable, such as the Monorail and the Finding Nemo Submarine Voyage. Let's be honest, would we really want to be on the submarine ride after going through this pandemic? I'll pass. 
Let's plan our visit to the Happiest Place on Earth in time for our summer vacation! We should still be aware of the risk and continue to practice social distancing and washing our hands regularly. 
The pandemic curtailed a lot of our regular activities. Now, with the re-opening of theme parks, and other activities, let's remember to be kind to one another. In the words of Walt Disney, "If you can visualize it, if you can dream it, there's some way to do it!" 
Stay safe, Nitros, and plan accordingly! Let's enjoy our summer this year!