Isabella "Lala" Villaneda is a junior at Glendale High School and she was born in Pasadena, California. Last month, Lala won first place in the America Recycle Day Art Contest, and senior Preny Davoodimasihi came in second place.
The America Recycle Day Art Contest was hosted by the City of Glendale last November, and it allowed participants from Grades 6-12 to join and show off their creativity, by only using recyclable goods. 
Lala says that she decided to take part in this because she has been in similar contests before and she "just thought it would be fun for me to do it again as a high school student." She also says that her art teacher Mrs. Bedrousi encouraged her to join.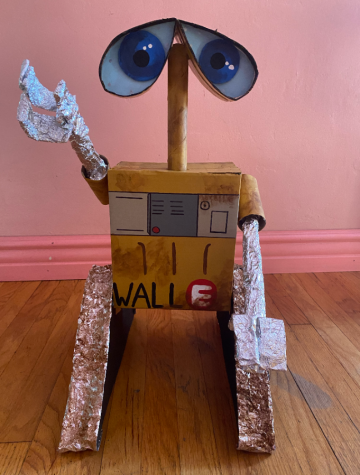 When it comes to her artwork, Lala chose to make the title character from the Disney Pixar movie, Wall-E. He is a functioning robot who spends his life cleaning and tidying up the Earth. Lala used only recyclable material to make her sculpture, such as cereal boxes, aluminum foil, and soda cans.
Since this art contest revolved around the importance of recycling, Lala claims that we should all reuse our goods, because it protects ocean life and it makes the environment around us look cleaner. Every single year, there is an increase in the amount of trash in certain areas, and as a society, Lala claims that "we should really prioritize on cleaning and just getting rid of stuff" by recycling.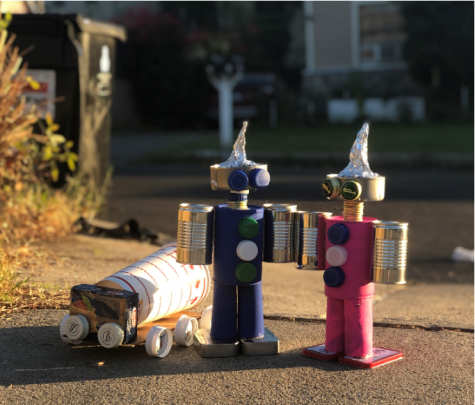 Overall, Lala expresses that she is very proud of how her artwork turned out and she is "really surprised that I actually won" the contest. She plans on joining more of these kinds of art competitions in the future, and she plans to even take part in something as big as a nationwide art contest.
We are so proud of our fellow Nitros Lala and Preny, and we cannot wait to see how they both grow artistically in the future!