Mrs. Stafford Promotes Restorative Practices at GHS
Restorative Practices are programs for people to come together and build strong connections through meaningful conversations. For several years now, schools around the Glendale community have been doing these practices and Mrs. Electra Stafford is the Restorative Practices coach at Glendale High School. 
Mrs. Stafford is an English teacher and has been teaching at GHS since 2001. She is from Los Angeles, California and loves to care for and ride her horse Einstein. Even though it is scary to ride with him at times, she claims that it is "an opportunity for me to confront those fears." 
 During these past years as a Restorative Practices coach, Mrs. Stafford has been working with other teachers at school, helping them solve difficult situations and providing them with resources that can be useful for teaching. She shares that she has gone through a lot of training to learn about this program, "using the practices to create smaller groups of people who may be struggling" and need help. 
She also shares that these practices are used in different places. This idea began in the prison system in the 1970s, and it was originally called Restorative Justice. It has helped people who are incarcerated to "express their remorse to the victims and the victim's families." It also makes them reflect on past actions that they've done, thinking of ways on how to take responsibility for and change their behavior.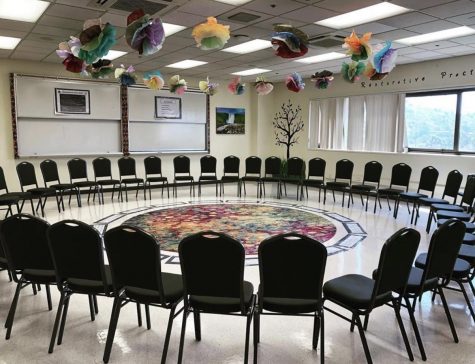 Typically in a normal school year, teachers at GHS would have their students stand in a circle and answer specific prompts. Some teachers would even bring them to the Restorative Practices room in the 4000 building, since it would make them feel more comfortable. However, our current online environment has shifted these collaborations to Zoom.
Over the past few weeks, Mrs. Stafford has conducted Restorative Practices for students who want to talk about the conflict in Artsakh, to express how they feel and also to inform others on the things that we should know. She plans on keeping these practices every week as a safe space for students to open up.
The pieces of advice that Mrs. Stafford would give to students during these times of uncertainty is that "you're not alone" and "don't stay alone." She wants students to know that they should reach out to friends or adults that they trust at school and at home. "We are all in this together", she claims.
Mrs. Stafford believes that the future is bright and prosperous. In a couple of years, she sees herself pursuing equine therapy and working with teenagers. She also wants to remind students to "always take positive steps towards having a positive future" and to learn to be adaptable and resilient, especially when unwanted situations occur.  
If you are willing to participate in these restorative practices with Mrs. Stafford, you can email her at [email protected], or ask your teacher for the Zoom link. These meetings will be held every week after school at 2:30pm!