Nikitha Ambatipudi Believes that WE Can Do Anything Together
The WE Movement is an organization that started over 24 years ago by two siblings named Craig and Marc Kielburger, along with activist Roxanne Joyal.  The mission of this organization is to help those living in poverty, as well as to teach the youth to stay connected to global issues and possibly help make a change.  Inspired by this movement, Nikitha Ambatipudi founded the WE Club at GHS, and she is currently serving as club president. 
Nikitha is a 15-year-old sophomore at Glendale High School, and she was born and raised in Glendale, California. Nikitha is really into watching sports and keeping up with politics. In her free time, she likes to bake and construct puzzles with her family. At school, she is also participating in the MESA Club, was recently elected to National Honor Society, and is a member of the varsity tennis team.
Ever since she was in elementary school, Nikitha has been in touch with the WE organization and has managed to make it into a club with her best friend, up until they started their freshman years at different high schools. The other cabinet members of the WE Club are vice president Riley Millward, secretary Diya Singh, treasurer Brianna Lopez, event coordinator Gabrielle Areglo, and publicist Jean Paul Diaz. 
Nikitha shares that her experience in the WE Club during the last year was great. She says that she was the only freshmen club president and was "learning the ropes of GHS clubs while also running it myself." Last year, the club members also got to participate in the City of Hope pajama party, where they hand wrapped Christmas presents for cancer patients. The WE Club also recently received a grant for $250 from the WE Charity.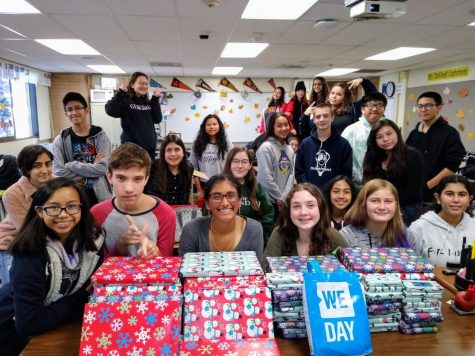 This semester, the club's project is to put a smile on people's faces. The members want to write thank you letters to medical workers and frontliners who have been working endlessly during these tough times. They also want to write to elders at nursing homes, since "we know they can be lonely right now and we just want to show that we care." As for the second semester, the club is still in the process of thinking about what they want to do, but they hope that they get to have a Walk for Water event. 
The Walk for Water event is something that the club came up with where the money raised will be donated to African and Asian countries that lack access to clean water. The club members would be walking from GHS to the Glendale Water and Power Building, and Nikitha claims that "every $25 dollars we raise gives someone clean water for life."
Nikitha shares that the biggest change she would like to see in this world is to get the youth more aware of current events. She also wants to change the mindset of students when it comes to community service. Nikitha says that doing community service around your area should be "genuinely beneficial to them and to us." When doing these types of services, you are not only getting that one extra requirement to graduate, but you are also building a connection with the people you interact with through these organizations, which is so important.
Overall, Nikitha feels hopeful about her future. When she leaves GHS, she hopes that the WE Club continues, because she has been involved with this organization since she was in the 2nd grade. The message that she would like to leave behind at school is that you are never too young to make a change, and when students "put their mind into something, they can make a difference in the area that they choose."  
In the years to come, Nikitha says that she wants to "find some ways to impact the world in a positive way" but isn't sure how she is going to do it or what path she might take yet. She says that she'll definitely be keeping in touch with the WE organization and will forever cherish the wonderful memories she has made with the WE Club. 
We are so proud of Nikitha and the rest of the club members who aim to inspire young ones to make a difference around the Glendale community and the world.  For more information about the WE Club, please do not hesitate to contact their club advisor Mrs. Clark-Reed at [email protected].