Elisa Sarkissian Strikes a Chord at GHS
Elisa Fleur Sarkissian is a French-Armenian musician, composer and Grammy Camp attendee. She has been a member of marching band and drumline since her freshman year. She also plays the keytar and the piano, and she has written the score for films through Nitro Studios. 
Elisa is starting her second year as president of Music Club, a club that she had created during her junior year. She has made the club "with hopes of raising money for the music program because [they] don't get funding and had to individually fundraise by themselves." She also hopes to help boost the confidence of our GHS musicians.
When asked about the events and activities offered by Music Club, Elisa listed many things, but the ones that stood out were "serenations". As a fundraising idea, Music Club goes around serenading people in class during Valentine's Day and at Round Up.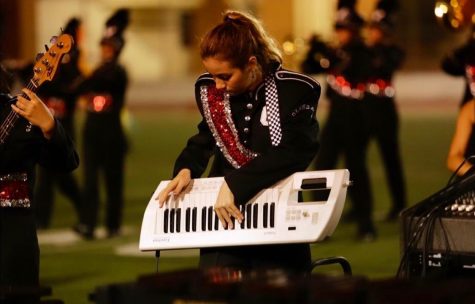 Besides that, Music Club offers members the opportunity to collaborate and work on new and original music and improvisational songs. Elisa has stated how she'd like to stay in the pop and alternative pop genre, but she is interested in other genres if members are interested. "Any and every instrument is welcome, as long as they have at least intermediate proficiency in playing," she said.
When it comes to the future of her club, Elisa hopes that Music Club becomes a fully-formed band with a diverse group of musicians. She hopes that this becomes a "safe space for musicians," even after she leaves. As for herself, she is working on releasing her first EP called Elisa Fleur as an introduction to her music and as a gateway for future club projects. 
For more information on Music Club, please contact Ms. Rangel at [email protected], or follow Elisa's or the Music Club's Instagram page.