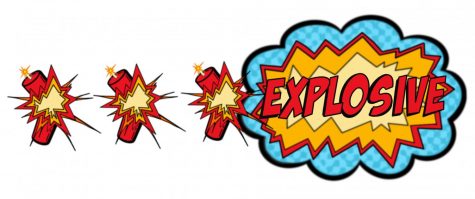 Over five years in the making, this new movie, based on everyone's favorite horror game, is definitely for you!
Five Nights at Freddy's, directed by Emma Tammi, is a movie adaptation of the popular video game series of the same name. It stars Josh Hutcherson, of The Hunger Games, as the main character. Currently, the movie can be found in movie theaters, but it is also available now on Peacock, since it's a Universal Picture. 
Anyone can enjoy the Five Nights at Freddy's movie. However, it is definitely a "for the fans" kind of movie, especially because of the amount of easter eggs and video game references that can be found over the course of the film. 
This movie follows a character named Mike, who serves as a security guard for an eerie, closed-down pizzeria, which is definitely reminiscent of a Chuck E. Cheese's Restaurant. Unfortunately, this movie is not as scary as I thought it would be. While it is thrilling at times, the story takes center stage. 
I recommend this movie to anyone who is reminiscing about 90's-style fun. And it is a 100% recommendation for those who have been a part of the Five Nights at Freddy's game fandom. Also, the movie is for those people who enjoy a nice story, along with a little excitement.
The plot is pretty easy to follow and very easy to comprehend. I looked forward to the later parts of the story, and I couldn't wait to finally see the animatronic characters! There aren't too many plot holes, but those people who have not played the original video game will probably have a couple questions. 
Every decision made by each character is laid out and easy to understand and believe. The final resolution of the movie sets up the potential sequels to come, but it is still satisfying to watch. 
The actors are also very believable in their roles. In particular, Piper Rubio, who plays Abby, definitely fits into her curious and adventurous character. 
We find growth in our compassion for both Mike and Abby as the story progresses. They sell what the brother and sister experience is supposed to be. Also, the chemistry between Mike and Elizabeth Lail's character, Vanessa, is definitely eye-catching.
The soundtrack for this movie couldn't have been more fitting. There is a song featured in the film by The Living Tombstone, who had previously contributed music for the Five Nights at Freddy's games. As I am a consumer and fan of the games, this addition positively impacted my enjoyment of the movie. The music also features sounds that are reminiscent of the past games, which was fun for me to catch. 
Overall, this is a thrilling movie that shows a lot of love to its fans, and it has so much exciting music. Mike goes on an interesting journey of mystery and delight, And you should absolutely give this film a watch, if you enjoy mysteries or thrillers! It is definitely a movie that anyone can recommend to a friend. 
And if you do end up enjoying this movie, you should also check out Us or Get Out. Both of these are captivating thrillers that will have you at the edge of your seat!