All the Hits (But More Misses) at the Met Gala
Were the celebrities on the theme this year? Spoiler alert: Not really…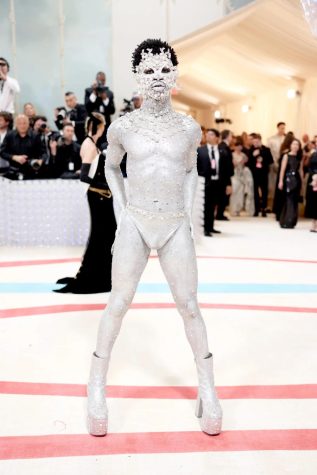 The Metropolitan Museum of Art's Costume Institute Gala, also known as the Met Gala, is held annually in New York, and it is the one night when celebrities can execute their best outfit that follows a theme. (We covered this event last year as well!)
This year, the theme of the Gala was a tribute to designer Karl Lagerfeld. There were some good outfits that were executed perfectly to the theme, but there were also some bad outfits that left you questioning, "What exactly is that?!" 
(By the way, please don't take this article too seriously. This is just what we thought about the outfits this year.)
Lil Nas X (Dior)
Erica: His outfit this year for the Met Gala was not at all what I thought it would look like. He looked like he stood outside during a blizzard and ended up having icicles and a bunch of snow stuck to him. I would say that the idea was there, but the execution fell short. He was kinda on theme, but this outfit is something that someone should never ever do again.
Aniella: This outfit was appalling. This is something that I never thought I'd see on the Met Gala carpet, especially for this theme. A couple of celebrities did pay tribute to Karl Lagerfeld's cat, but this was the worst one. It made me very uncomfortable to look at. I do appreciate the effort that went into the thought and process of getting ready, but this doesn't need to happen again. Like ever.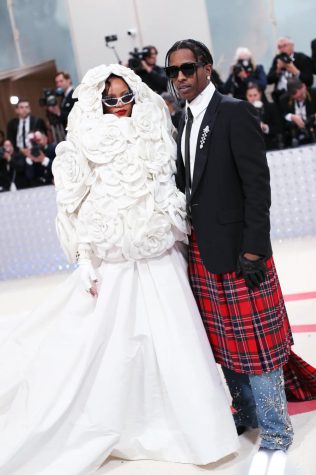 Rihanna (Valentino and Bvlgari Jewelry)
Erica: RIHANNAAA! She did it on point again this year, and she always will slay. She did not attend last year's event, and coming back this year, she executed her outfit perfectly. It wasn't too crazy, and also not too colorful. The flowers around her body just added to the center of attention, which is her beautiful face, and this completed her outfit for me.
Aniella: Rihanna was absolutely stunning! She didn't attend last year's Met, due to her baby, but she came back this year better than ever. I love the flowers that acted like a jacket for her, and when she took it off, it revealed her amazing dress. I loved that dress and especially her train. I think her entire outfit fit the theme perfectly, and I loved seeing A$AP just admiring her along with the rest of us.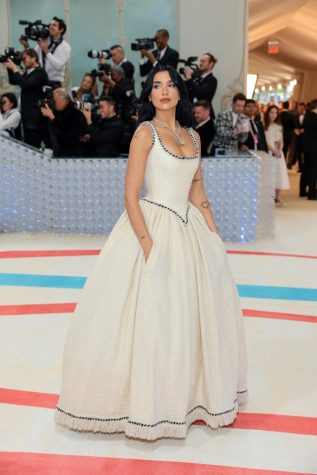 Dua Lipa (Chanel)
Erica: WOW!!!!! She killed it this year. Some people can say that this dress was ugly and not on theme, but please… these people have no fashion sense. Anyway, it looked so nice and well-executed, but just don't focus on the bottom of the dress too much. It was really pretty, but the lower section could have been a bit better. Some people, including me, have assumed that it looked like a carpet or a lampshade cover.
Aniella: I AM OBSESSED! Dua Lipa killed this look. She was wearing a vintage Fall/Winter '92 Chanel couture bride dress, and she looked amazing. This dress was very iconic in the '90s, and Dua Lipa brought this look back. I do wish that she wore the matching hat, like in the original outfit, but she served nonetheless. She looked flawless and the dress perfectly encapsulated the theme.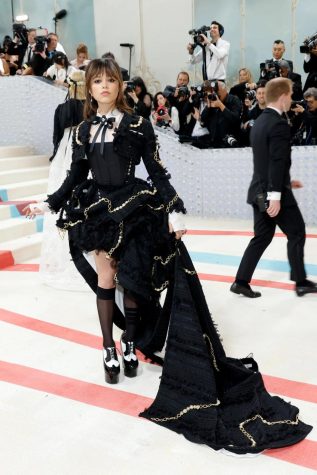 Jenna Ortega (Thom Browne and Marli Jewelry)
Erica: I LOVED it. Her outfit showed off her own personality, and it didn't look like she was trying too hard to make it crazy. The outfit also gave off some Wednesday vibes (if you know). I would say that this look was on the theme, but it is really hard to make out the theme this year, especially since it is a tribute to a person. I feel that she executed her outfit really well, and the jewelry on her dress really made her fit pop.
Aniella: OMG. I LOVED Jenna's outfit. They did such a great job incorporating Jenna's style with the theme. I also feel that her outfit showed off her personality, too. I love the gold-pearled chain, which tied the whole thing together. I also love her corset. Everything about this outfit was perfect for the theme.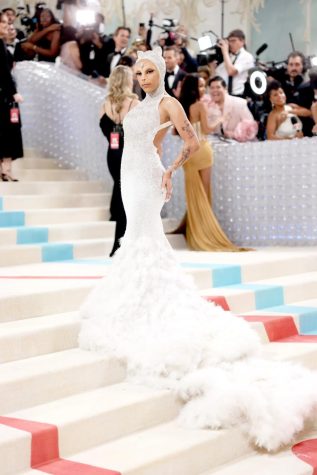 Doja Cat 
Aniella: Doja really hit this one out of the ballpark. If you don't know Doja, she has a lot of spunk, so it really wasn't surprising for me to see her dressed as a cat. She went all out for this. She wore a prosthetic nose and her nails looked like she was bearing her cat claws. I really enjoyed this look, because it had a balance of elegance and craziness. I feel like this is such a Doja Cat thing to do, given the theme. Of course, I knew that she would choose the more crazy route this year.
Erica: Doja's fit surprised me. I did not expect her to dress as a cat, and she even imitated cat sounds during her interviews. Given the theme, she did such a great job, because it wasn't as crazy as Jared Leto's catsuit. I really enjoyed how she executed this outfit, because no one except her would go all out like this.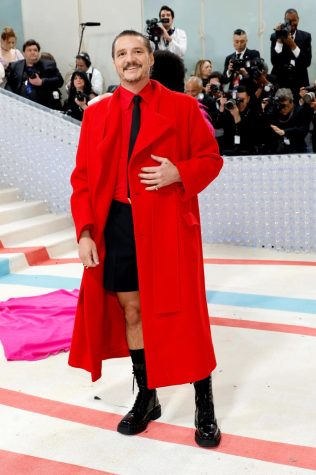 Pedro Pascal
Aniella: Everyone LOVES Pedro, but this outfit could've given us so much more. I do like that he went against the mostly black-and-white part of the theme and went with red instead. That was very different from other celebrities, but it was such a plain outfit. It was a red coat, red shirt, black tie, black shorts, and boots. There wasn't really anything extravagant about this outfit. There could've been a little bit of bling, and the shorts were just super awkward. I applaud him for trying to be different, but it just didn't work.
Erica: I couldn't agree more with Aniella here. However, Pedro could've executed his outfit a little better, to show off more of his personality. I feel like his suit was too plain, and it just didn't really pop for me. One side of his leg was showing, which was okay, but I feel like the shorts could have used more bling or something that would've accentuated his outfit a little bit more.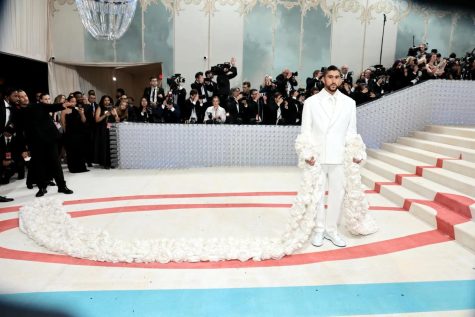 Bad Bunny
Aniella: Bad Bunny knows how to dress for the Met. He showed up all the other men there. His all-white suit look, with an open back, was absolute perfection. He also had these floral statement sleeves that trailed behind him, so it was just all so beautiful. No other man on that carpet looked better than Bad Bunny. He dressed for the theme perfectly, and I have no complaints here. 
Erica: You cannot go wrong with Bad Bunny. The decision to go full-on white made him stand out from all of the other men that were there. He had the right idea, and he executed it beautifully. No complaints here. Also, the floral statement that was on him, along with the open back, like seriously made everything pop.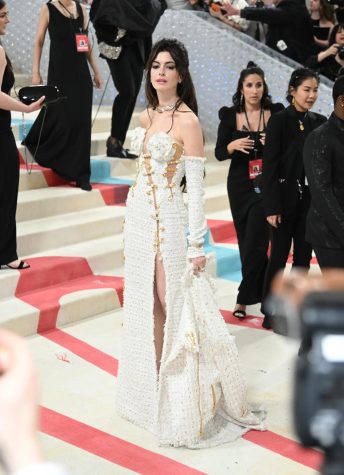 Anne Hathaway
Aniella: OMG, Anne Hathaway looked so good on that carpet. Her dress was absolutely stunning, and it fits the theme to a tea. I loved the pearled pins holding some of the dress together. I also adore the strapless top, along with the sleeves that she was wearing. I loved everything about her outfit. It was perfectly put together, and it felt like this dress was meant for her. 
Erica: For me personally, I did not like it. Her outfit was giving the impression that she had an incision down the side of her dress. The pearled pins that were holding it all together were okay, but for me, I believe it was all too much. The sleeves were cute, and I love them. I feel like the idea was there, but it wasn't exactly executed to the max.
This year's Met Gala had many different surprises, from people showing up in catsuits to perfectly fit outfits for this theme. I don't think anyone was prepared for this year's Met, but we all survived it. Until next year, Nitros!