Lilit Arakelyan Brings Representation to GHS
Armenian Club president hopes to share her culture on our campus
Lilit Arakelyan is a junior at Glendale High School. She is a determined, hardworking, and goal-oriented student. She was born and raised in California and has attended GHS since the start of her freshman year. Lilit enjoys playing the violin and tennis, as well as swimming. She is also the president of the Armenian Club at our school.
Can people who are not Armenian join the club and still be actively involved?
They definitely can, because it's not about if you're Armenian or not. It's about whether you're able to learn and spread our culture and our history, as well as your ability to interact with others in the club.
We're not just gathering as Armenians to hang out; we're gathering to spread our culture to people who don't know about us. So if people who aren't Armenian join, it's even better, because they can spread who we are to diverse communities.
Why should people join the Armenian Club?
I think people should join the Armenian Club, because we not only have shifted our focus towards fundraising for whatever is going on in Armenia right now, but [we also work] to highlight the importance of being an Armenian and being in the diaspora. Being an Armenian, and keeping your heritage, is difficult when you're not in your country. 
What upcoming projects are you currently planning?
As for upcoming projects, we will continue with our fundraising efforts, and [we] will also restart our program of coming up with historical presentations to present every other week in the club. These [presentations] include history, music, inventors, significant events, and an overall timeline of our history.
What are your regular club meetings like?
During our club meetings, we talk about current events, the planning of fundraisers, about whether we will be bringing up certain guest speakers to speak at our clubs and we decide which ones. As of right now, we're planning our Armenian Genocide Assembly [on April 21st].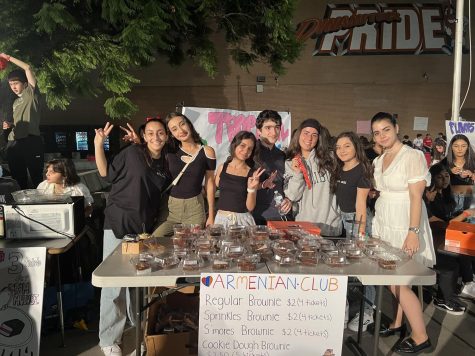 What kinds of community service opportunities does the club provide for its members?
I am the main organizer of the fundraisers. We set up tables in the Americana, at Montrose, near Kenneth Village or Brand Park, and I usually do the baking if we're doing a bake sale.
I thought it would be nice to do that sort of volunteer work, because it's not only helping the club, but it's also helping [members] get community service hours. I have a great cabinet who contribute and help us achieve our goals.
Lilit feels that under the correct leadership, this club could go very far, and with even more participation, she and her members can do great things. She hopes that her club will host a very successful Genocide Assembly, because she wants to honor and pay respect to those who lost their lives in the genocide. 
In the future, Lilit sees herself as a student at Harvard University  or at one of her other top schools. She hopes to pursue a degree in either Biochemistry  or Pre Med, on her way to becoming a neurosurgeon. 
If you are interested in joining the Armenian Club, please visit Room 2330 and follow them: @ghs_armenianclub on Instagram.