Stuck at Home With Nothing to Do Over Thanksgiving Break?
Here's a list of fun activities to do with friends and family during your week off.
The days are going by faster and faster. Halloween has already happened and now everyone is ready for the holidays. Fortunately for us students, November also means Thanksgiving Break. One whole week of no school can get boring for any GHS student, so here is a list of fun activities to keep you busy. 
Thanksgiving Break is when GHS students have some time to just relax and spend time with the people they love. Therefore, doing some arts and crafts will always help you to destress, especially with items you can find around your house.
A cute decoration you can make is a jar candle holder. It is quick to make and just a beautiful addition anywhere. Also leaf chandeliers are just a great    accessory and a fun way to spend your evening. Hand turkeys are also very popular and fun.
During break, there are also many places that anyone can visit with whomever they choose. Taking road trips is always a good idea, especially for trying new foods and visiting new places. If you're a fan of amusement parks and rides, take a trip to Universal Studios Hollywood or even Six Flags Magic Mountain. At this time of year, they have already begun hanging up their Christmas decorations. 
The beaches in California are always welcoming for visitors, no matter the season. Walking on the beach, and even along the nearby streets, is always a fun and relaxing option with friends and family. A great spot to visit at least once in your life is Laguna Beach, which is very beautiful and has so much art to witness.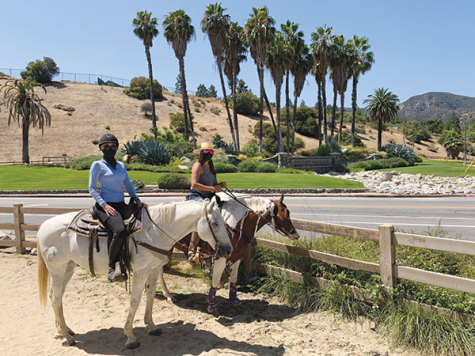 For people who love animals, horseback riding should definitely be crossed off your bucket list this break. Griffith Park Horse Rentals offers the best horseback rides in Los Angeles. The horses are very calm, and the guides are very friendly. The rides happen in groups, but you can also schedule a private group for an extra charge. 
During Thanksgiving Break, everyone should try at least one of the ideas above, instead of just being on their phones all day long and driving themselves to boredom. Please go out and try new things, because you never know what you will like and enjoy until you try it. We hope that these ideas will inspire someone, and on behalf of the Explosion Staff, we wish everyone a Happy Thanksgiving!