Eva Jeyranyan Takes Pride in Being a New Nitro
Our new Freshman Class President is comfortable in a leadership role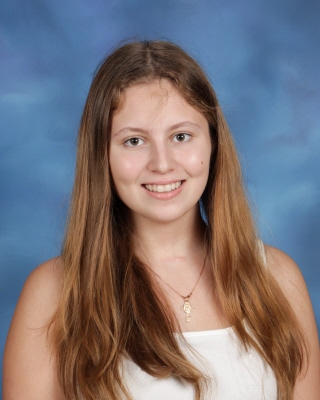 Eva Jeyranyan is a 14-year-old freshman at Glendale High School and is the President of the Freshman Class of 2026. She was born in the United States and has lived here her whole life. When off campus, Eva is involved in many different activities, and during her free time, she likes to play basketball, she loves to crochet, and she enjoys working out. 
Why did you decide to run for Freshman Class President?
I mainly got involved when my cousin told me about it, and she insisted [on me] joining [ASB] because… it was really fun and you get to be able to argue and make such good decisions, not only for yourself but to the whole organization itself. 
I just kind of love when I take on a major part of something, such as a leadership role. I thought…why not give it a try and join? It's fine and fun, but as you keep going, as you advance, things get harder and harder, and that will help you further on improving yourself.
What happens during Class Council meetings?
During my [council] meetings a lot of people [have] discussions and things happen. I feel like it's not just a meeting where we go as a whole group. I mainly listen to what is being talked about and what are the things that we need to do or improve on.
I mainly listen to what the others have to say [or]suggest, or any ideas that they might have. For example, we discuss a lot of related topics, such as Round Up or Homecoming. 
We help each other and share ideas and strengths, to later on perfect the main topic that we are aiming for. As part of one of the five other presidents, I feel like my main job is to be the opening passageway for our school to exert that Nitro spirit!
What hopes do you have for the freshman class this year? 
I'm hoping that all the members of [our freshman class council] will continue to work hard, like they always do, as well as to keep bringing bright and amazing ideas into the team. I also hope that we continue to grow together and that nobody leaves, just to succeed in every step of the way with them.
Why should other freshmen join ASB?
A lot of people should consider joining the team because I feel like a lot of people think you just do it because it looks good on your transcript or college record. But to be honest, it's really an amazing opportunity to be a part of [ASB], and [it] is really fun! This also gives you the chance to meet a lot of amazing new…people, [and] maybe even friends. 
Eva would love for YOU to get involved and join ASB. If you would like to be a part of the Freshman Class Council, feel free to contact your freshman class advisors, Ms. Bedrousi in Room 7204, or Mr. Martinez in Room 4303. You can also email Mr. Livingston for more information at [email protected], or give him a visit in Room 6202.