Heartstopper, Episodes 1-4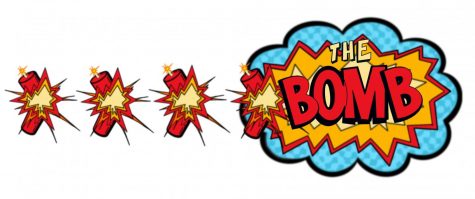 WARNING: SPOILERS AHEAD!
Heartstopper is a new Netflix series that was released on April 22, 2022. This series is based on a series of graphic novels created by Alice Oseman, who also wrote the show herself. 
The first season has a total of eight episodes that are half an hour each. The series overall is relatable to teens who are struggling with coming out and figuring out who they are. 
It all starts with Episode One, titled "Meet", where the main character Charlie Spring (played by Joe Locke) is secretly in a relationship with a boy named Ben Hope (played by Sebastian Croft). However, it doesn't end up well for them, as Ben doesn't want to be seen with Charlie in public. Things start to change as soon as Charlie meets Nick Nelson (Kit Conner), who is pretty well-known in school and an athlete who sits next to Charlie in class.
In the beginning, I knew that Ben wasn't a good character. Sure he is all good-looking, but in reality, he is a bad person, both to Charlie and to his friends, which is further revealed in later episodes.
Charlie slowly develops feelings for Nick, every time they run into each other in the halls of the school. Charlie assumes that Nick is straight and feels hopeless that they will never have a chance to be together. 
Later on in the first episode, Ben ignores Charlie in the hallways, which leaves Charlie confused. It causes Ben to apologize in private, but Charlie doesn't seem to trust him. During lunchtime, Charlie sees Ben kissing a girl, which results in him standing up and telling Ben he does not want to see him anymore. 
This moment is just embarrassing for Ben. But no one should feel sorry for him, because it reminds me of another series that I recently watched on Netflix called Trinkets, because of the similar relationship situation happening to the main character Elodie.
In Episode Two, "Crush", Nick slides into Charlie's Instagram page as they chat on their DM's. Charlie explains what has been going on with him and Ben, and how he has been mistreated. 
Charlie's best friend, Tao (who is played by William Gao), advises him to drop Nick because they assume he is straight and dating a girl that he kissed in middle school. But Charlie refuses to do this, because he has developed strong feelings for Nick.
They soon find out that Nick isn't straight, because their other friend Elle (Yasmin Finney), who goes to school with Nick's "girlfriend", says that she is dating another girl. Nick then goes over to Charlie's to watch a movie, and Charlie falls asleep. We catch the moments when Nick is hesitant to hold Charlie's hand, and he stops and goes on his phone to look at the photos they took together.
How cute, right?? 
Yeah, it's adorable, but the emotional ride is just starting to escalate.
In the terrific Episode Three, called "Kiss", Nick invites Charlie to his friend Harry's party. Harry (Cormac Hyde-Corrin) is actually a bully to Charlie and his friends. Nick and Charlie are sitting down and having their moment at Harry's party, when Harry comes in and interrupts them by telling him that the girl he kissed in middle school has arrived. 
They pressure Nick to go talk to her, but they soon find out that the girl is dating another girl. Nick is relieved and tries looking for Charlie, who is in an awkward situation.
Nick and Charlie finally go somewhere where it's just the two of them. They sit on the floor, and the moment finally comes when they share their first kiss. 
However, this moment leaves Nick feeling confused. He hears his friends looking for him, so he rushes out of the room. This leaves Charlie alone, and he ends up calling his dad to pick him up. It ends with Charlie crying in his father's arms. 
In Episode Four, "Secret", (which I don't really like because of its ending) Charlie opens up his door where Nick is standing outside, drenched in the rain. But they both go to Charlie's room where they share another kiss. 
Nick tells Charlie the relationship shouldn't be public, and that he isn't ready to be with a boy. He apologizes to Charlie that he is having a "proper full-on-gay crisis." Ultimately, they make the decision to keep their relationship out of the public eye, which leaves Charlie looking at Nick as a red flag, because he experienced all of this before with Ben.
And oh man, does it only get awkward from here! 
Imogen, who is also friends with Nick, flirts with him and is convinced that they are meant to be together. But Nick is confused; he has the decision to either turn her down or not, which he worries will make people suspicious about his true identity. 
Later on, Charlie is injured playing rugby, even though he had only joined the rugby team to spend time with Nick. Nick eventually finds Charlie in the infirmary, where Charlie apologizes for being too clingy, but Nick says that he should be the one that is sorry. 
Oh, how cute! I love how Nick is apologetic and trustworthy. 
However, at the end of the episode, Imogen asks Nick about the date. Again, Nick is pressured by his friends and doesn't know if he should turn her down or not, so he agrees to go on a date with her.
We hear special music and see a little, cute leaf animation when someone is imagining their moment with a person. This moment is so uplifting and hopeful, and it forces viewers out of their seats and jumping with joy. 
The first four episodes of this series immediately put me through an emotional rollercoaster. I was shocked and disappointed, and even excited and happy. I encourage you to watch this series because it has so much potential for another season. So we'll have to wait and see if Netflix will bring it back. 
Overall, this show will lift you off your feet and fill you with joy. Check back here tomorrow for our review of the last four episodes of Heartstopper!