Are You Looking for Something to Do This Holiday Break?
Here is a list of some fun ideas to do during the holidays!
Let's be honest: this year is flying by. 
It is already wintertime, which means that the holidays are almost here, and it is an important time for many people to celebrate internationally. Since the holidays are coming, that means Winter Recess will be here soon, which is often a boring time for GHS students. So here is a list of fun activities to do during your holiday break.
Winter Recess is a fun time to hang out with friends and family, to try new things, to visit new places and overall to just have fun. For me, the holidays mean celebrations, snow, Christmas trees, presents, ice-skating and fun.
Arts and crafts are simple to do, because you can do whatever you want and they are usually cheap. Snowflakes and winter birds are fast to make and are so beautiful, especially if you hang them on the ceiling. LED lights are very cute as well. Small Christmas trees are nice and can be made from yarn and foam. Plaid, specifically red, bedding with pillows,  are the final touches to an awesome room.
The holidays are not only about decoration, but also about spending time with the ones you love. A fun place to visit is LA Kings Ice at Pickwick Gardens in Burbank. Ice skating is an awesome experience and a good way to bond while trying something new.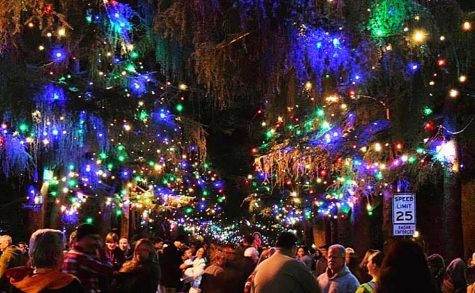 Light shows are also popular. Christmas Tree Lane, in Altadena, is very well known and it is free. This can be found on Santa Rosa Ave, between Woodbury Ave and Altadena Dr, and it is just beautiful. Another impressive light show is Reindeer Road in Arcadia. However, this is not a free event, and tickets have to be purchased online.
Sadly, it doesn't normally snow in Los Angeles, but there are several areas with snow nearby. Skiing is a fun way to spend your day, which is exactly what most people do at Mt. Waterman Ski Lifts. Even though this location is not free, it is still fun. 
Frazier Park is also relatively close to Los Angeles, and most locations there are free to visit. Frazier Park is full of snow during the wintertime, and there are many games and activities that you can do there. Not to mention, it can be a short road trip with friends or family.
In general, during holiday break, people should try these things and have fun, instead of just sitting around, bored, every day. We hope these ideas have helped you. On behalf of the Explosion staff, we wish everyone an awesome holiday season!