Lilian Mirzakanian is on TRACK this Year
Our GHS track and field captain is excited to be back and work out every day, despite the pandemic
Lilian Mirzakanian is a junior at Glendale High School, and she is one of the captains on the GHS track and field team. She is also one of the newest members of National Honor Society, and she is currently serving as Junior Class Vice President, under class advisor Mrs. Shannon Clark-Reed.  
Lilian has been attending GHS since her freshman year. She was born in Hollywood, California but she now lives in Glendale. She likes running, hanging out with family and friends, and watching late 1990s to early 2000s movies and TV shows, such as Gilmore Girls, Legally Blonde, and Clueless.
Lilian is a captain on the varsity track and field team this year. Interestingly, while she was a part of the track team at Wilson Middle School, participating on the jump team. But now, she is a member of the relay and sprint teams here at our school, because of her ability to run really fast. 
During Lilian's freshman year, she started off taking a regular PE class, but it was not to her liking, so she started competing on the track team in the spring. She joined the team because running gets her motivated and helps to take her mind off of the things that are not school-related during practices.
She is most proud of making it onto the relay team because it is hard to get in, and you need to be able to sprint quickly and be focused on the moment. She became a captain because she works hard and is able to come to practice during the weekdays and on Saturdays.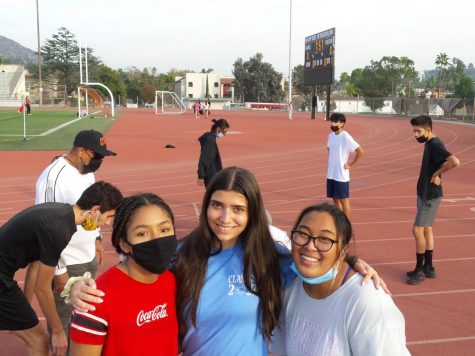 During track practices, Lilian mentioned that they do lots of stretching and dynamics before they get into their more intense workout. Her favorite workouts are relays, where they run for two miles and pass the baton to each other while running in a straight line.
During their season in the spring, Lilian and her teammates compete at invitationals and other meets that are against the schools in the Pacific League. During those meets, Lilian explained that they get on buses and wear their track and field jerseys. When they are actually competing, the feeling of nervousness and the adrenaline rush both come together when the official says, "On your marks. Get set. Go!" Then the whole competition is over in a matter of seconds.
While competing as a Nitro athlete, specifically on the track and field team, Lilian says that everyone is sweet, nobody is toxic, and they all bond like a family. "We motivate each other to do our best, which is team-oriented," Lilian said. On times when they don't have practice, they plan events to bond with each other, such as going to Halloween Horror Nights and the Santa Monica Pier.
One setback for Lilian occurred when she was competing during her freshman year. She was running a relay race, and she was trying to outrun the person in front of her. However, she pulled her quad muscle, and she was out for the entire meet because of the injury. 
For the most part, avoiding tan lines, injuries, and sunburns, all while recruiting other people onto the team, are the most challenging things about track and field, especially when you are trying to stay healthy. 
Overall, Lilian shows that she is capable of handling her teammates and showing the new people how to compete properly. Many people learn from what she has taught them, and they use it to improve themselves in the long run. 
The goals that Lilian plans for the team this season are to beat Hoover, to move higher up in their rankings, to try to get into the CIF Playoffs, and to make it into the league finals.
"If you like running or want to try something new you should join [the track team]," Lilian said. "Don't worry about making friends, as all of them will connect with you on the first day." Finally, she added that all the team members will teach one another how to make each other better.
Lilian is glad to be back on the track team after COVID-19. She feels like the future of this team is expanding little-by-little. Their practices and workouts are the same, but because of COVID protocols, the track meets are planned to be on Saturdays instead of on the weekdays after school.
If you are interested in being a part of the GHS track and field team, please contact Coach Bailey at [email protected].