Nikitha Ambatipudi is a junior at Glendale High School, and she is the president of WE Club on our campus. She is also part of the MESA Club, the National Honor Society, and the Save the Seas Club, where she is serving as secretary. 
Nikitha was born and raised here in Glendale, and it is her third year leading the WE Club at our school. She loves to get involved and help with many causes, both locally and globally. When she's home, Nikitha loves to follow politics, watch sports, and bake. 
When Nikitha was in the second grade, she first became interested in helping her community, inspired by her best friend. She has since developed a passion for helping others, and she is willing to do anything to help change and make a difference in her community. 
For over ten years, Nikitha has been a part of the WE organization, and she has seen the changes that this organization has made over the years. At first, it used to be a Free the Children organization, but later in 2016, it became known as the WE Charity. 
Nikitha has found the WE organization really interesting, because not only does she get to help people locally and globally, but it is also a lot of fun. By starting this club at GHS, she has hoped to expose other students to be a more beneficial part of their community.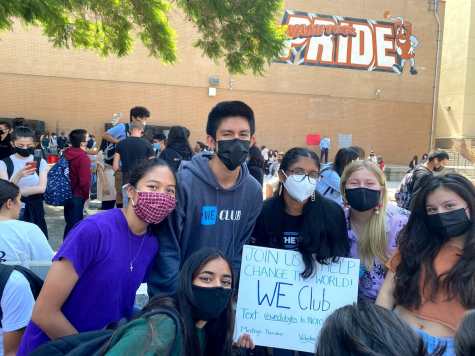 This club is needed at our school, because it gives people the chance to do community service and to have easier access to resources. Picking service projects is the best thing about WE Club, because it gives members lots of ideas to contribute, which is entirely based on their own preferences. 
The whole entire purpose of WE Club is just to make a difference both locally and internationally, and Nikitha feels like everyone can be involved in this. During their WE Club meetings, they go over announcements and then plan or work on a project. Nikitha makes people feel like they are a part of a family in the club, and every month, she gives a little gift to the people who have their birthdays and shows her appreciation for them.
Last year during online distance learning, Nikitha's club performed two different projects, which not only made an impact, but also warmed the hearts of everyone involved. Nikitha and her members first wrote thank you letters to first responders, to thank them for their bravery and for putting themselves in harm's way during the pandemic. 
"The nurses responded back, and they said that it was a heartwarming gift," she said.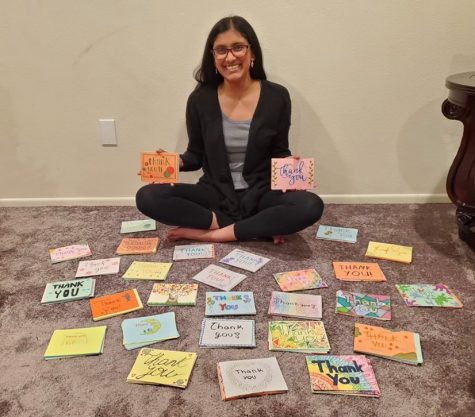 Nikitha recently announced that this will again be the first project for the WE Club in 2021. She hopes that this will help students earn community service hours, and she wants everyone to have access to helping those in need. 
The second project they did last year was the Walk for Water event. They walked to raise money for people who lack access to clean drinking water. 
Nikitha has faced several challenges during distance learning, especially for all of the club meetings to be online, and her members had trouble supporting one another during this hard time. But she still loved experiencing and learning new possibilities for the future of the club. Her favorite aspects of being a part of the WE Club are having a lot of fun, making new friends, and having a positive impact on her community. 
In the end, Nikitha sees herself going to a four-year university after graduation and continuing to make an impact on her new campus. She feels like the future of WE Club is to target young audiences and teenagers to make a difference in their community. Helping people globally and locally is what drives her club members to be inspired by other people. 
Nikitha hopes that in the future, after she graduates from GHS, the incoming classes will continue on the path to make the world a better place. She also hopes that all students are able to settle into this new transition, from online to in-person learning, and for her club to achieve the projects that most impact their city.
If you are interested in joining the WE Club, please follow their Instagram @ghsweclub, or contact their advisor Mrs. Clark-Reed at [email protected] for more information. It's not too late to join, and new members are always welcome!