GHS Reopens Despite COVID-19 Surge
In person learning has a rough start at GUSD, as more and more students test positive for coronavirus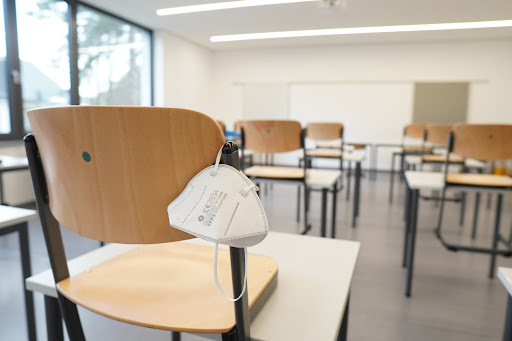 The delta variant of COVID-19 is devastating the world right now. Cases are rising in the US, but only about 64.4% of Glendale's population has received at least 1 dose of the COVID-19 vaccine as of August 19. Despite all that, the district felt that it was safe for students to return to in-person learning.
On the day of the reopening, August 18, there were 3,974 new cases of COVID-19 in LA County, compared to 184 new cases on June 18, according to The New York Times. This includes 98 new cases in Glendale on the day of the reopening. As the virus sweeps through Glendale, at least 4 Glendale High School students have tested positive for COVID-19 since August 18, according to the GUSD COVID-19 Dashboard. Additionally, 555 GHS students have been in direct contact with these infected people. 
On Friday, August 27, GHS Principal, Dr. Benjamin Wolf, sent out an email to GHS families, stating, "For any student who returns from Quarantine, please remember to bring your slip showing your negative test result. You will need to show that in the front of school so we can clear you to return to your class."
Positive cases in GUSD are increasing rapidly. As of the publication of this article, there have been 50 COVID-19 cases in GUSD, including 46 students and 4 staff members. Some of the worst-hit schools are elementary schools, because kids under the age of 12 are not eligible to receive the COVID-19 vaccine. This creates a dangerous situation, because there are 20 elementary schools in GUSD where hundreds of unvaccinated kids gather almost every day. 
GUSD is, of course, not the only school district dealing with COVID-19. On Thursday, LAUSD admitted that they are having a COVID-19 outbreak in their district. 
On Tuesday, August 24, Dr. Wolf reiterated the importance of wearing masks via an announcement during 5th period, saying, "If we have to talk to students more than once or twice about this, you are going to be removed from Glendale High School, and will have to finish the rest of the year on independent study."
In our Explosion poll about returning to campus, only 59% of the students felt ready to return to campus as of writing this. 
Getting vaccinated is the best way to fight COVID-19. Despite all the false information, vaccines are actually effective at stopping the spread of the virus, because they make it easier to reach herd immunity. If you would like to get the COVID-19 vaccine, see Glendale's COVID-19 vaccination page for more information by clicking here.