In an unprecedented move, following a year full of firsts and difficulties, the graduation ceremony for the Glendale High School Class of 2021 was held at the Rose Bowl in Pasadena on June 10. In order for each graduating senior to have four guests in attendance, the commencement ceremony was held away from Moyse Stadium for the first time in decades.
An estimated 450 Nitro graduates attended the event, held on the stadium field in accordance with covid-19 protocols. All students sat in seats distanced six feet apart from one another, and their diploma booklets were sitting on their chairs before they walked onto the field.
2021 Valedictorian Alec Baghdasarians and Salutatorian Lara Brielle Heredia both delivered speeches during the ceremony. ASB President, Kayla Rodriguez, led the participants in the flag salute, and Senior Class President, and Explosion Staff Writer, Arline Daniali gave an address and a final invocation.
"It's so exciting, and I'm so happy I got to see all of my friends and people I haven't seen since before the pandemic," Rodriguez said. "I'm really grateful that we get to be not only graduating with each other but in a really big stadium."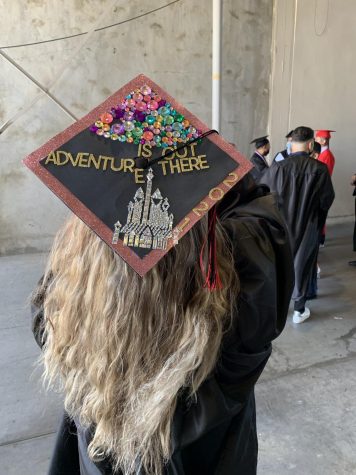 2021 graduate and ASB Director of Rallies, Armine Agakiyanest, agreed. "It's actually such a unique experience and we actually are making history graduating at the Rose Bowl and not at our field," she said. Agakiyanest added that she is "glad that things are semi-back-to-normal."
The Rose Bowl was the site for the graduation ceremonies of all three traditional high schools in the Glendale Unified School District, with Hoover High School holding their event in the morning on June 10, and GHS holding theirs later in the afternoon. Crescenta Valley High School will hold their graduation ceremony at the Rose Bowl on June 11.
Please click HERE to watch the ceremony!