Five Alternatives to College
College is not your only option, seniors!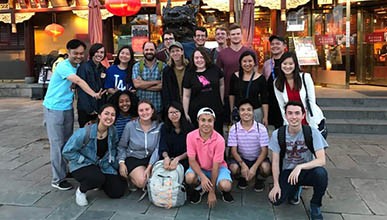 It is the time in the year when many seniors are anxiously waiting to hear from the colleges they've applied to. But what about the rest of the seniors who don't know what to study or where to apply?
There is so much pressure in the college and university application process. Parents can be pushy and persistent with what and where their kids should study. Not to mention the stigma surrounding gap years. Choices appear to be limited.
The college application process can easily stress out any teen as it's a big change. It becomes even more difficult when you can't even decide a general career path. At this point, many indecisive seniors will settle for community college, even when they know they don't want to be there. 
Although there is nothing wrong with applying to a 4-year university or a community college, students shouldn't do so just to make others happy or because they feel that they have no other choice. Instead of wasting time and money, you can try to find an option that suits you specifically.
Option 1
Do you like to travel? Then why don't you consider taking an overseas internship? Programs such as Global Experiences offer a variety of opportunities. You can pick from many different cities around the world and be able to learn in another country. From studying Fashion Business in Milan, Italy to learning about Engineering in Galway, Ireland, you can earn credits by doing what you love, in another country. 
Option 2
Looking for a cheaper option? I got you. Another great program you may consider would be Diverbo. This program allows you to help students in Spain to learn and speak English. This program benefits both Spanish and non-Spanish speakers. Spanish speakers will be able to use their Spanish skills to help teach and translate, while non-Spanish speakers are able to pick up some of the language themselves. And instead of paying a tuition, you would only need to cover your flight and any other personal expenses!
Option 3
This option may still be too pricey for some people, which is understandable. So why not try something similarly different? Instead of paying to study, why not apply to a paid internship? There are many programs available, such as Year Up, which is an amazing 1-year program which pays you to study and work with them. You are able to learn how to work with computers and also find out how businesses work. The amazing thing about this program is that after your year is over, you are immediately offered great job opportunities at companies like banks, Facebook, and Microsoft. 
Option 4
Not into business and marketing? I understand. In this case try visiting sites such as Indeed or chegg. On these sites, you are able to search for personal needs, like location, pay, or career path. They make it easy to apply for opportunities, and you are able to see the requirements and benefits for each job.
Option 5
Are you not a school person? That's totally okay. If you paid enough attention in your Economics class, then you should know that investing is a great way to make money. Even though it is not as reliable as many people want it to be, you are able to not only invest your money but your time, in order to learn how to be smart and successful. Eventually, you may be able to teach other people how you were able to find success. 
At the end of the day, it's your own future. You should be able to decide if you're ready for a 4-year university, a better fit at a community college, or eager for an international education. Maybe you just need a year to figure things out, or you may feel confident enough to invest your money.
You are never limited to one option, because you are always allowed to change your mind. (Editor's note: this is also the time in your life when you can try things out and take risks, as long as you are willing to continue living at home and your parents are able to support you.)
Good luck, seniors!