Glendale Athletics Are Almost Back!
Despite a few setbacks, our sports programs should resume in January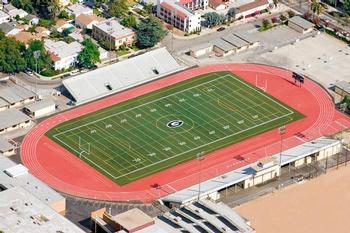 After being out for more than seven months, our sports programs are preparing for their return. With covid-19 still around and our campus still on shutdown, this is going to be a huge step forward in advancing through stages and coming back to normalcy. Although our school is functioning remotely, GHS athletics are very close to returning with practices, tryouts, and possibly competitive games in the future. 
During October of 2020, our administrators were working hard towards bringing our athletes back on campus, as the numbers of covid-19 cases were slowly going down. They started off with our football team, following all of the precautions and protocols to keep our staff and players safe and healthy. 
All of the participants had to wear masks during the time when they were not active, and they always practiced social distancing. Once they arrived at school, players had their temperatures checked before entering the field. On the field they had their own space that was socially distant from everyone else. The equipment was regularly sanitized throughout the session. At the end of each practice, players wore their masks, sanitized their hands, and followed all of the guidelines in order to prevent any spread of the virus. Following several successful practices, other sports were very close on coming back also. 
However, when the number of cases went up dramatically in LA County, this process was delayed until further notice. Although our campus and staff are fully ready to follow all of the health guidelines, there are not going to be any physical activities within the campus in December. All of the sport activities have been moved to second semester, and we already have a structured league game schedule for the spring of 2021. 
Through the efforts of our administration, coaches, and athletes, it is very likely that our sports will be back next semester. All of our players are eager to have practices, games, and a full-league season, where they will compete to the best of their abilities and keep our school proud. 
However, in order to reach that goal, all of us need to be cautious with what is going on, wear masks and practice social distancing, in order to give our athletes a chance to perform and do what they work hard for every day.