Mr. Hector Martinez has been a social studies teacher at Glendale High School since 2013. He is currently teaching US History, Economics, and Government at our school, but he also recently became our Nitro boys golf coach, along with Special Education teacher, Mr. Greg Martin.
Prior to coming to GHS, Mr. Martinez was in the U.S. military for nine years, and he served as an 82nd airborne paratrooper. He had his first job at Baskin-Robbins, he then worked at The Home Depot, and he was even a clown for kids' birthday parties. 
Mr. Martinez eventually decided to go to college. He first went to San Francisco State University, and then he attended Cal State Dominguez Hills. He got his first teaching job at Crescenta Valley High School before coming to GHS, but he admits that he isn't too proud of his time there. 
Mr. Martinez chose to come to GHS because they were hiring, and it was in Glendale, which made it easier for him to commute. He really enjoys the time he has to decompress from all the stressful situations that happen during the school day.
Golf is very special to Mr. Martinez, and he really loves the sport. He knows it's a great opportunity for students to get their college paid for, and it's just a safe sport you can play while feeling calm and relaxed. Golf is a mixture of everything that he thinks is good about life.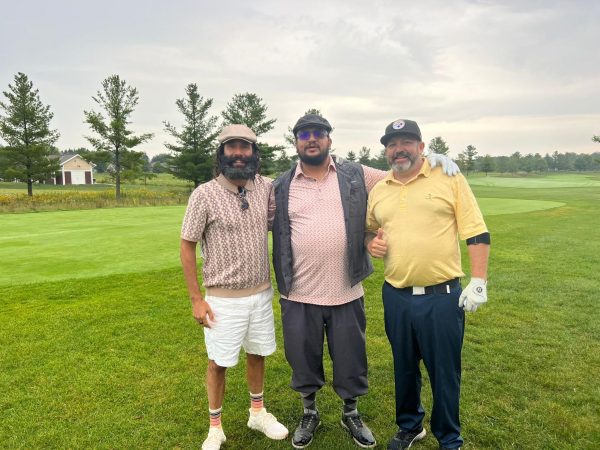 Mr. Martinez believes that you can tell what type of person someone is based on how they act on a golf course. If a person has any kind of drive or self-respect, they may find out that they can't play golf very well, but they will keep golfing until they're good at it. When you see someone on the golf course doing well, and putting the work in, you can tell they are a good person that respects themselves. Golf also helps you learn a lot of things about life, and you can make a lot of friends and meet new people while playing. 
Mr. Martinez agrees that golf is often boring, but in that boredom, you can find true relaxation and peace. Some of these times are going to be key memorable moments, and Mr. Martinez feels that all students should enjoy their life as a teenager because when they grow up it won't be the same.
Mr. Martinez also likes it whenever GHS wins at something, like a game or a contest against another school, especially when we get to surprise the people who thought we wouldn't win. It's just an amazing feeling. 
Outside of golf, Mr. Martinez recommends that, when students graduate, they should not spend all the money they make. Instead, they should invest it, turn it into capital, and make capitalism work for them. 
Mr. Martinez tells his students, "Don't just buy butter!" This means that they should not just buy things that make life easier for them. They should start making money while they're young, and not waste it by only buying things they actually need and not want. 
If you are interested in joining the boy's golf team, please contact Mr. Martinez at [email protected]! Stay in the swing of things, Nitros!