Danica Martinez Valenzuela is not only a cheer captain, but she's also an amazing role model for children!
No one in her family had ever competed in cheerleading before. Her sister attended Glendale High School, as she does, but her sister only competed in track and lacrosse. Danica decided that those sports weren't for her, so she went into cheerleading instead. 
Danica is currently a senior, and she is proud of her Mexican-American heritage. Her parents were both born in Mexico, but she was born in Glendale. 
Danica has a message for all of her fellow Nitros. "Be kind to people," she said. "It can get really hard, especially when things are coming to an end [during] senior year. It gets overwhelming."
Danica's interest in cheerleading began in middle school, at Theodore Roosevelt Middle School. She stated, "In Roosevelt, they had a cheer program. It was more traditional cheer, [and they] just cheered at the games." 
Danica would often visit GHS during middle school, to watch her sister play sports. Danica observed the cheerleaders and soon became even more interested in the program here on our campus. 
A younger Danica Martinez was not expecting to be a cheerleading captain in the future. "I feel I am very shy out[side] of cheer, very quiet," she admitted. "But it was something I quickly became passionate for."
Danica officially joined the cheerleading program during her freshman year at GHS. She even revealed, "I had freshman year online: Zoom cheer." 
It was pretty difficult to have cheer classes online, but she still continued to do cheerleading her sophomore year. From that point onward, she has been a member of the varsity cheerleading squad. 
Danica chose cheerleading out of all the other sports offered at GHS because she enjoys putting on performances. Danica loves performing "in front of an audience or crowd." She also enjoys the applause, you could say.
Danica's favorite part about cheerleading, other than attending sporting events, is competing. She said, "Even though it is really nerve-racking, it really sets my team to work hard and work with each other." She is truly team captain material!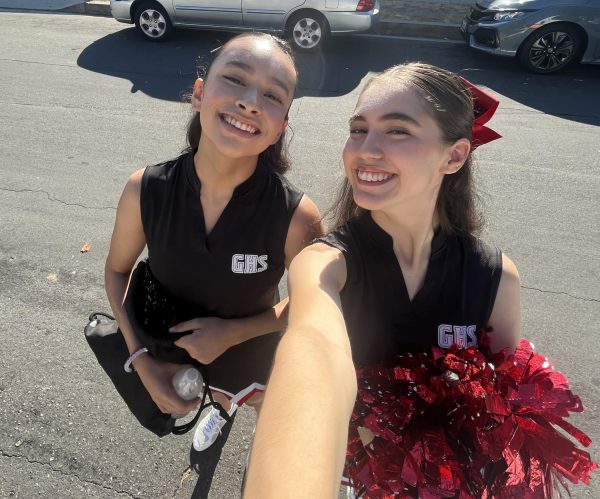 Danica has so far competed in several cheerleading competitions. Her favorite competition was through the California Interscholastic Federation. In the CIF Cheer competition, all of the high school cheer teams in Southern California compete against each other. 
Danica stated, "For the division, we placed fourth out of eight teams. But we did win [against Crescenta Valley High School]!" This was a proud accomplishment for GHS. 
Danica also mentioned that the CIF competition "was one of the most serious competitions we have ever had. It was great to get recognized after that."
Other than cheerleading, Danica enjoys painting and reading, as well as hanging out with friends. She revealed that she enjoys calming activities. 
Danica's plans after high school include going to a four-year college or university and studying social science. She isn't going to just give up cheerleading after high school. "If I go to a college that offers it, I would like to still be involved [and] perform," she said.
Although being a cheerleader is hard work, Danica contends that the cheer coaches, Coach Noelle and Coach Brittany, are very dedicated and passionate. Danica believes that they have created  "a very loving environment, but [they are] strict." Not only that, but you will definitely create a strong bond with your teammates in cheer.
If being a part of the GHS cheer team intrigues you, consider joining next year! Follow their Instagram: @ghsnitrocheer, or check out their YouTube Channel, Ghouse Videos. If you would like to donate to the cheer team, please check out their webstore. 
And don't forget: cheer tryouts will be in the spring, and no previous experience is needed! Glendale, support your team!