The California rock band Sun Room got its initial attention in 2021, thanks to the Netflix series Outer Banks. Songs such as "Crashed My Bike" and "Something That You're Missing" were used as background music in Season Two of the show. If you want to hear those songs for yourself, check out Episode 1 ("The Gold") and Episode 8 ("The Cross").
Sun Room consists of four main members: Luke Asgian (vocals and guitar), Max Pinamonti (bass), Gibson Anderson (guitar), and Indy Minnich (drums). They are all currently in their early twenties, as Asgian is still currently enrolled in college. All of the members are from San Diego, where the band was formed in 2020. They started off playing local house shows for the members of the young surf community in their city.
The band currently has 19,700 subscribers on YouTube Music and nearly half a million monthly listeners on Spotify. The band's most popular song, along with the ones played in Outer Banks, is "Sol Del Sur", which is my personal favorite.
This track was released during the start of their music career in July 2020. It is a great song to sway or bop around to. 
Not only that, but the music video has the best vibes. It has been edited to look like it was recorded on a vintage camera, with the recording style being somewhat abstract. In the video, multiple clips are shown of band members skateboarding. From this, I suspect that this song will be amazing to listen to while casually skating.
The Sun Room album called Somewhere Tropical truly lives up to the name. While listening to the title track and "Summer Heat", you will feel as if you are cruising down the highway of a coastal paradise, in the middle of July, in a 1990s convertible. I can almost taste the saltiness of the air.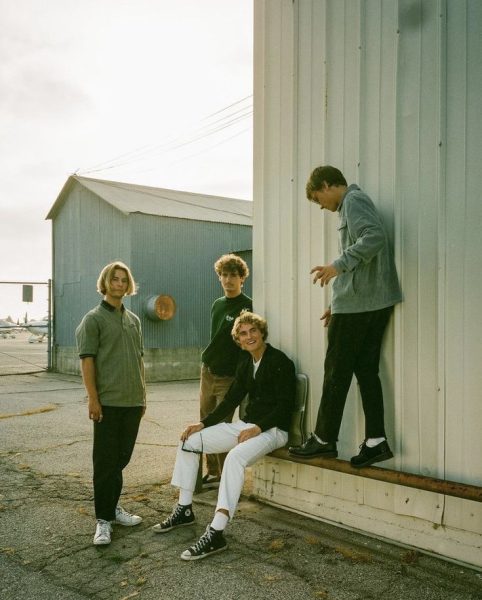 Both these songs have a reverb-heavy guitar sound in the beginning, which just adds to the beachy, ocean setting. Once you hear them for the first time, you won't be able to stop listening to them; I am speaking from experience.
Sun Room recently went on tour with the Louis Tomlinson in 2022. (Yes, the one from One Direction!) 
As of right now, the band is in the middle of a 2023 fall tour in the US. They will be in Los Angeles, Austin, Seattle, New York, Boston, and more, starting on September 15 and ending on November 29. To follow up with these dates, check out the band's Instagram page: @sunroom. They have some really goofy posts… many of which I would honestly want to be a part of.
If you want songs that make you feel all the summer vibes that you can possibly feel, listen to Sun Room. Their music takes you back to Southern California, no matter where you may be. 
And if you're from California, and you're feeling homesick while on a European vacation, put on some headphones, close your eyes, and play their songs. I guarantee that it will cure your homesickness, at least for a little bit.