ASB President, Kayla Rodriguez, Named Student Board Representative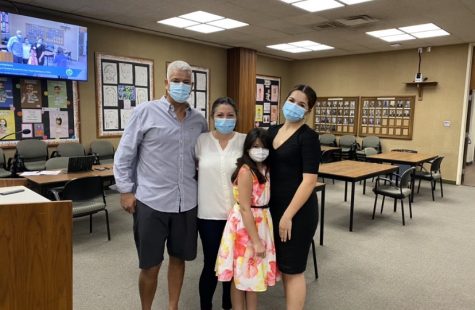 Glendale High School senior, and ASB president, Kayla Rodriguez has been named Student Board Representative for the Glendale Unified School District. This is the second consecutive year that a GHS student has had the honor of holding this position. Kayla will be representing the nearly 26,000 students in the District, attending board meetings, and acting as the voice of all students in the city of Glendale. 
Kayla has been a member of ASB since her freshman year, heavily impacting her decision to run for Student Board Rep. Kayla finds that because she has "grown up in the ASB room," where she has learned to be more responsible, more patient, and a better leader. ASB has heavily impacted her life, and she finds that her "heart lies in Room 6202." 
After being announced as Student Board Representative, Kayla was speechless. She felt that all her hard work had paid off, and she was excited for what was to come. Kayla plans on making sure that all students have a voice and feel comfortable to speak on issues that affect them. She wants students who are underrepresented to have a louder voice, as these students tend to be "the ones who have the most to say." 
People who have inspired Kayla to be who she is today are her older sister, Elena, and last year's Student Board Representative, and GHS alum, Janet Louie. Her sister has shown Kayla to be determined with anything, from the "smallest to biggest" obstacle. Former ASB president, Janet Louie, has guided Kayla through the years, where Kayla does not "believe [she]'d be where [she is] today" without her. 
As Kayla plans on going to a four-year university to study business, she wants to leave behind a legacy of positivity. She wants to be remembered for the hard work that brought her to this point, because she believes hard work pays off, "as cliche as that sounds." Kayla wants to tell GHS and GUSD students that it is okay to "feel small" and take breaks, as long as "you eventually get back up and not give up" against "whatever demons [you have] in your life." 
Kayla is a force to be reckoned with.