Isabella Alvarez Will Get the Show on the Road!
Drama Club president values teamwork and collaboration
Isabella Alvarez is a sophomore at Glendale High School and the current president of the Drama Club. She was born in Burbank and has lived in Glendale all her life. Isabella appreciates the teachers at GHS and is proud of the creativity shown by her fellow students at our school. She enjoys drawing, and painting, and has recently been interested in crocheting.
Aside from Drama Club, Isabella is also a member of the Gardening Club, Kindness Club, Dungeons & Dragons Club, Ceramics Club, and Pride Club. She is not a part of any other club cabinets, for the sole purpose of focusing her attention on the Drama Club.
Isabella was new to the Drama Club last year and initially volunteered as president until a senior with more experience took over. Most of the club members are part of the drama classes offered at GHS, and this year, Isabella was elected as president by her friends, who saw her passion and efforts in drama.
Isabella considers the Drama Club to be all about teamwork and learning how to act. On top of that, it's a place where members can talk about what they want and make new friends. Isabella has helped maintain this club because she wants to help club members to express themselves. She believes this club is needed on campus, because "many people are shy, especially those who are trying to learn about drama." 
"There are many art classes and clubs offered at [our] school, but they don't focus on learning teamwork skills," Isabella said. "Most artists are introverted and aren't particularly active in collaboration, so Drama Club is meant to bring people out of their comfort zones and increase their confidence."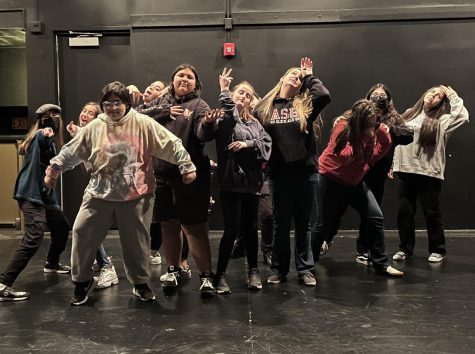 In February, Isabella will perform in a student production of the play, Peter and the Starcatcher, and she hopes that the club members engage in a park picnic when there's free time. 
Isabella thinks that this club can help improve the dramatic arts, which are underappreciated on our campus. She feels that Drama Club can gain recognition and benefit other GHS students, by being a source of entertainment for them.
Isabella wants GHS students to know that "Drama Club is open to anyone who doesn't have prior skills in drama." All students "can come as an absolute newbie, and I can teach you all that I know."
Isabella hopes that the Drama Club will expand in the future and that every member will gain more knowledge about drama, while always having fun. After leaving GHS, Isabella is determined to attend art school, because she plans on becoming a character designer. 
The GHS Drama Club meets every Wednesday during lunch in Room 2230. If you are interested in joining the club, please contact Ms. Donohue at [email protected].
Stay dramatic, Nitros!