Stella Todd Wants GHS to Roll for Initiative
Senior Dungeons and Dragons Club president helps to create a fun community
Stella Todd is a 17-year-old senior, and she is one of the founders, and current president, of the Dungeons and Dragons Club at Glendale High School. She started getting involved with D&D in the sixth grade, due to her brother introducing her to role-playing games. Stella's friend group from sixth grade learned to play D&D together and they still play to this day!
The reason that Stella Todd, and her other cabinet members, decided to start this club was to create a close-knit community, where everyone can have fun with people who play D&D and feel comfortable with each other. This club is meant for everyone, and Stella hopes that it will be inclusive so that even if you have never even touched D&D before, you will still be able to enjoy the club! 
Stella realizes that D&D resources can be expensive, so she wants to help everyone. "The club and I [plan] to supply members with dice and player handbooks," Stella said. "We really want to open resources up to our members." 
During meetings, the D&D Club plans to split members into groups, where they can play one-shot or two-shot sessions. Even if someone has never played an RPG before, the nice part about being in a group is that you all learn over time together. 
"That was really me and my friend group," Stella admitted. "On our first campaign, we barely knew what was going on. And so every time we came to a problem, we had our research together, and that's what I want to do for the groups [in D&D Club]." 
When playing D&D, commitment is a big challenge that many people face. "Each member has to be committed," Stella said. Campaigns can run for a very long time, including for months and months, which is why the groups are encouraged to do one-shots. These shorter campaigns can be much easier to manage. 
"Lack of commitment is the biggest issue that I'm worried about personally," Stella said. However, she is aware that the people who stay involved in the club will teach the ones who really want to play in the future.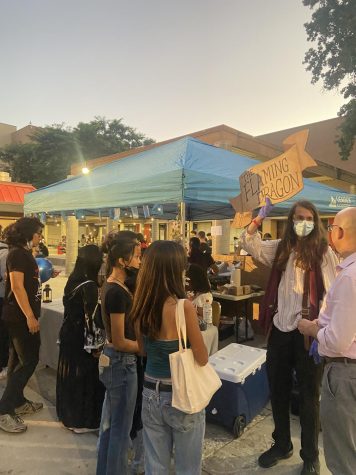 Students should join this club, not just for the fun of it, but because they can learn skills that can be useful in real life. Stella explained that "it really opens your imagination, and it really makes you work your creative bone." Playing D&D can really widen your ability to see things in new ways. 
Another example of a useful D&D skill is thinking quickly on the spot. Given the fact that you are playing with people, you need to improvise a lot, which makes the story go more smoothly, and you pick up that skill as you play more and more. It's also a great way to be closer to people.
"Listen, it's not nerd stuff," Stella said. "I mean it is nerd stuff, but don't be afraid! It's really fun! If you go and you join even for a little bit, or just sit in, it's actually really, really fun." 
Stella hopes to see this club grow together and create a bond. She really wants this club to help its members open up their imaginations. 
One of Stella's main goals is fostering a place in which people can feel comfortable, as well as creating a diverse community. In the future, Stella hopes this club will become a safe space for everyone who wants to play.
In the future, Stella sees herself continuing to play D&D because it's a hobby she really enjoys and is really committed to. She also plans to continue playing during college. "I'm probably going to go to college and join the D&D club there or something," she said.
If you want to join in on the fun, you can contact Mr. Gebeshian at [email protected]. You can also contact and follow the D&D Club on Instagram: @ghs.dnd_club!