Introducing the 2022 GHS Teacher of the Year Finalists!
Congratulations to these amazing educators, selected by the students of Glendale High School!
Over 1900 GHS students voted for the 2022 Teacher of the Year! It was a VERY close vote, but here are your finalists!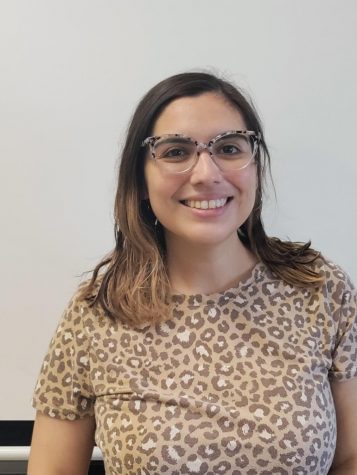 ¡Hola mi gente!
I was raised in South Los Angeles until my parents moved to West Covina when I was 9. I grew up playing volleyball and softball and played both while I attended Covina High School. After high school, I earned my Bachelor's degree in Latino & Chicano Studies, with two minors in Spanish and Pan-African Studies, from Cal State LA. I then went on to earn my Master's in Education from APU and completed my student teaching, right here, at Glendale High! My mentor was Sra. Yong, who has been such an amazing help and guidance!  I learned early on that I had a passion for culture and diversity, none of which can be understood without language. So here I am, serving the "chillness" and teaching verb conjugations, one day at a time. ¡Sí se puede!
In my free time I love to travel (hello, nerdy Latina goals), and I also enjoy reading, watching TV shows (Gilmore Girls is my go to), and spending time with my family and friends. I love going to Laker and Dodger games (even though the Lakers have been hard to watch lately), and I love attending musicals and concerts.
This has been a great first year at Glendale High! My one message to my students is always try your best! Remember: who cares if you make a mistake? It's part of the learning process. And as always, portate bien and be kind!
¡Hasta luego! 🙂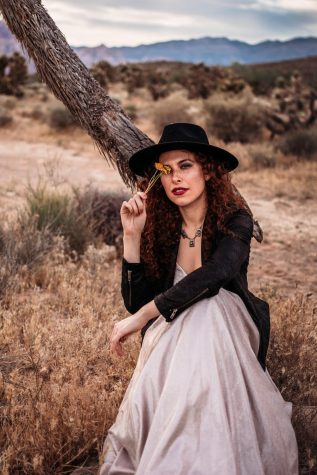 Hi, how is it going? Me? I am good. I am dancing Bachata, practicing my Cobra Kai moves, and drinking coffee.
I want to share what I love:
1. My Daughter
I love how kind and smart she is. I love that she can empathize with others.
2.  My Students
Our classroom is NOT a classroom, but instead it is our Casa (home). In our Casa, we have a kitchen. In our Casa we are a FAMILY, and in our kitchen, we are TEAM.
3. I love savory dishes, but I LOVE TO BAKE.
Desserts are beautiful. They are works of art. Desserts can soothe a broken heart and they are also great for celebrations.
4. I love the moon and the beach.
I love that the moon can show us that everything in life is temporary. That good and bad times come in phases. That we need to enjoy the good and grow from the bad times. THAT is what makes us whole like a full moon. I love the mystery behind the ocean.
5. I love dancing and listening to Salsa and Bachata.
6. I love fine dining and supporting women in Culinary–a male dominated industry.
7. I love to learn how to be more inclusive and helping young people find their self-belief.
8. I love cookbooks, and I love creating memories as I gather around for a meal with others.
9. I love to be honest, to create community, to grow strong as a teacher and mother, and to find my voice in any challenge.
10. I am a proud, natural red-headed Latina!
I believe in my family here (my students), and I just want them to learn to do the same. Remember what Chef says: "No one can help you, if you can't help yourself."
Cheers and Bon Appetit,
Chef Cuevas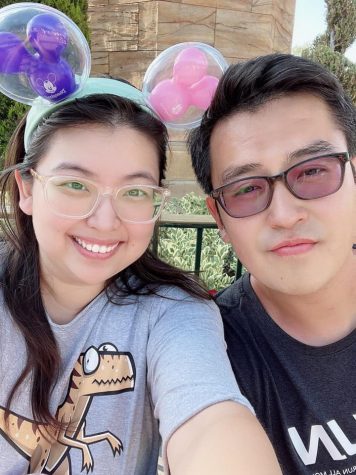 As the only Chinese teacher at GHS, I feel not only unique, but also very welcomed, by both of my colleagues and students. I started working at GHS as a math teacher in the Fall of 2018, and this is my first full-time teaching job after I applied at over 55 different schools. I was born and raised in China as the only child in my family, and both of my parents never expected me to be a math teacher in the United States. My parents really wanted me to be with them after I graduated from college, but now, they are really proud of me for being a great educator who is making a positive influence on the lives of teenagers. I still remember how tough it was for me when I first started teaching at GHS, and now, I am very grateful for all of my experiences, because it only made me a better person. All of the freshmen back in 2018 are seniors now, and technically speaking, I am a "senior teacher", too. I still remember all those silly moments in my classroom, but I am very proud of them for being mature and determined to move onto the next journey. 
As a big Marvel fan, Captain America is my favorite character, because of his perseverance, and that is what inspired me to never give up on any students. I really enjoy this year's block schedule, because I have more time to share the financial-related videos with students during our advisory time. In addition, creating a student-centered classroom gives students more autonomy to study at their own pace, and most students love it. So far, I really enjoy teaching at GHS, and I love to hang out with students during snack and lunch time. Learning about their lives and cultures makes me more connected with them, and most importantly, it keeps me young, too. 
Finally, I want to thank all the students who voted for me as the Teacher of the Year, and those inspiring messages from students will always motivate me to become a better educator and never forget my purpose of making a positive impact on students.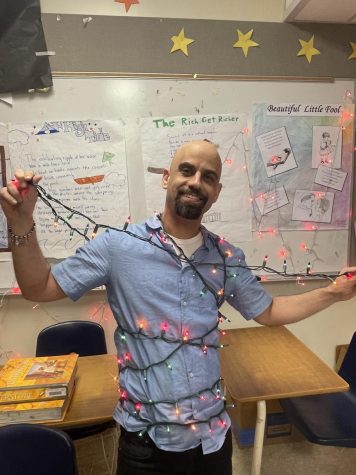 I was born in Montreal, Canada, but my parents moved to Burbank, California when I was five, because my dad relocated for job purposes. My parents said I had picked up French while briefly living in Quebec but had forgotten it once we moved here to the states. For kindergarten and first grade I attended Miller Elementary school. My parents then bought a house in Pasadena, where I continued my education graduating from Pasadena High School (Go Bulldogs!) and then briefly attended Pasadena City College, transferring next to Long Beach State (Go Beach! But their mascot has been changed to Elbee the shark since 2020).
I made my way around school districts near Glendale until I ended up actually working at Glendale High School as an English teacher in the Fall of 1999! I have been a happy Dynamiter ever since. I like to create a welcoming, fun, learning environment where students feel at ease. When I look back now at my 20-plus years here at GHS, I am thankful for the veteran teachers who guided me during my earlier years when I was trying to find my flow as a teacher. I'm definitely not the same teacher or person as I started. I'd like to think of myself as someone much improved. The only constant has been my bald head.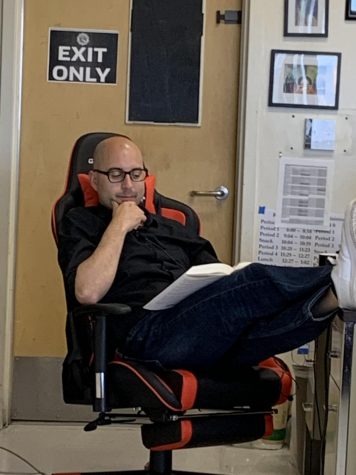 Mr. O'Malley was born into a family of renowned scientists, who spent their careers attempting to end the environmental devastation and exploitation that was destroying their planet. His parents became fierce advocates, testifying before numerous government tribunals, and even attempting to run for office, before the establishment of a military dictatorship dashed their dreams of finding a way to save their home from destruction.
Seeing no way forward, but unable to leave themselves, they sent their infant son to a place where they knew he would be safe. Mr. O'Malley was adopted by a kindly couple in the American midwest, where he grew up working on the farm, but never knowing his origins.
During his adolescent years, Mr. O'Malley discovered that the radiation from Earth's yellow sun granted him extraordinary powers. The radiation also made his hair fall out. It was his high school teachers that guided and supported him during this difficult time, and he promised himself that he would pay that kindness forward by serving the next generation as a high school teacher.
After years of schooling, Mr. O'Malley became that teacher and now, by day, he bestows knowledge and wisdom to the students in his care. Unbeknownst to most, however, he has a secret life: driven by his deep love for humanity, he removes his glasses and tie and uses his extraordinary powers to battle the forces of evil in pursuit of truth and justice.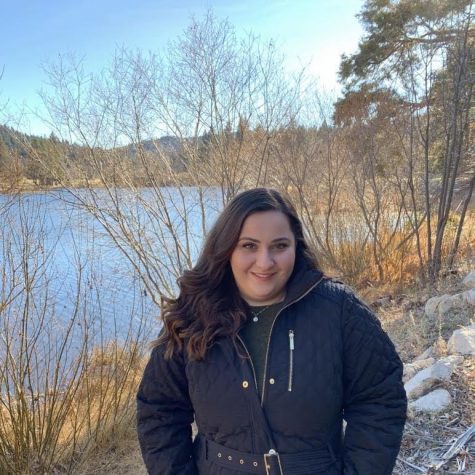 Hi everyone! I'm Ms. Postajian. I was born and raised here in Glendale, California, and I've lived in Southern California for most of my life. My family moved to Brooklyn, New York for a couple of years when I was a small child, but eventually we moved back here to sunny So-Cal and I began school here in Glendale.
I grew up as a GUSD student, first attending John Marshall Elementary School, then moving on to Woodrow Wilson Middle School, and finally becoming a Dynamiter here at GHS! I graduated from Glendale High in 2011. I got my bachelor's degree in English from UCLA, and spent a while living abroad in London, England, studying British Literature at King's College London. After returning from London and graduating from UCLA, I began my master's program at USC and worked toward becoming a credentialed teacher.
I have worked here at Glendale High School in various jobs: as a tutor for the Avid program, a long term substitute teacher, a student teacher, and finally getting my own classroom as a teacher in 2018. In my free time, I enjoy going on walks with my dog, Oliver, hanging out with my closest friends (a lot of whom I have known since my time at GHS!), and reading new books. My goal as a teacher is to make sure every student feels like they belong when they walk into my classroom. I try to make the best of every situation and enjoy all the new experiences that life has to offer, and I hope I motivate my students to want to do the same!