Nicole Wong Has a PLAN for Your Future
PLAN Club president hopes that more Nitros will consider attending a 4-year university
Nicole Wong is a senior and the current president of PLAN Club at GHS. She enjoys digital arts, because "it's a good way to express creativity." Nicole is also interested in coding and playing video games. 
PLAN (Prepare, Learn And Navigate) Club started last year, when two seniors, Tangik Ghayvandian and Aria Kupperstein, talked to one of our counselors, Mr. Horton, about the college information given to the student population. They felt that this information was not specific enough, they didn't have many resources available to them, and many students didn't know how to access it in the first place. 
When the club was first formed, Nicole was only a cabinet member, but now that Tangik and Aria have graduated, she has become the new president. 
Ultimately, the goal of PLAN Club is to serve as a branch between Mr. Isaiah Lee and the student population, and it also provides more information about colleges and career paths for all Nitro students. 
What about the PLAN Club first interested you in joining?
I wanted to be able to help in providing that much information [about college] because, for me personally, that wasn't very available to me. That's kind of the difficult part of it–just being able to access information, being able to just know what you're doing. So, we want to be able to contact a bunch of alumni, [and] get this process through, because it's not as difficult as everyone thinks. It's just hard to access.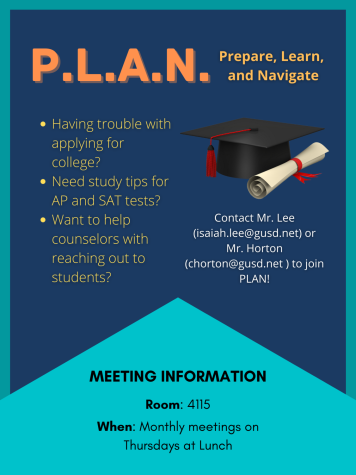 What are some challenges you've had to face with your club?
I'd say one of the big ones is getting in touch with people. Even the counselors have stated that there's this kind of issue where it's difficult to contact people and get them motivated to start getting into colleges (and not just going to a community college). So, currently we are working on different ways to try to contact student[s] before that mentality kind of sets in.
There's also [the issue of] getting the opinions of other people, because a lot of people, when you ask them questions on the spot, they don't really have an immediate answer.
What is your favorite part about being the president of PLAN Club? 
I just like being a part of this effort and being able to communicate with counselors and school officials, because now you're in a position where you can influence what they see or hear. So being able to be that mouthpiece between the student body and them has been a pretty good experience. [It] feels like I'm actually doing something.
If you have any questions, PLAN Club meets every second Thursday of the month at lunch in Room 4115. You can also contact the club advisor, Mr. Horton, at [email protected].
Start thinking about the future today, Nitros!