Jahir Ponciano is a senior at Glendale High School, and he is also one of the captains of our school's boys varsity basketball team. He wears jersey #12 and plays shooting guard. 
Jahir began playing basketball during middle school as an eighth-grader, and because of his leadership on the court, he was chosen as captain.
What drew you to play basketball over other sports?
What mainly drew me to basketball was the love I have for the sport. The coaches and the coaching staff are really the best. They've helped me become who I am today.
In what areas do you feel you've improved the most over the years?
Honestly, I feel that I've improved all-around over the years, but my speed and strength have improved a lot. I feel like all my hard work has paid off.
What are some challenges you and your teammates have faced?
Over the years at least, I think I'd say chemistry [and] getting along sometimes [have been a challenge], but we've worked on it and it's a lot better now than what it was before. Communication is also one of the difficult parts.
What moment this season were you most proud of yourself and your team?
The moment I was most proud of was when we went to [the] semi-finals at the San Gabriel Tournament. There were a lot of tough teams and it was very memorable. I had fun with my guys.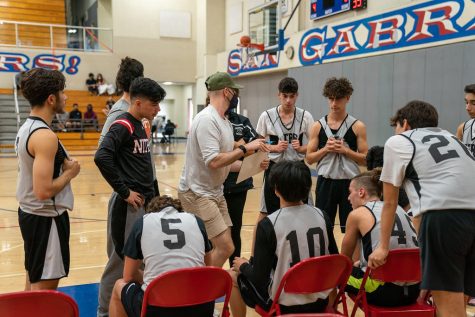 What are some specific goals you have, and how do you feel about the future of the team?
We're trying to win it all… and [we'll] see what happens from there. We're a young team right now, so I'd say the future of the team is going to be good.
Do you have any advice for future GHS basketball players?
[One tip that] I have for future GHS basketball players is for them to work hard. Just hard work really pays off in the program, and it'll show in the long run.
In the future, Jahir wants to be a vet, but he admits that "if basketball wants to take me somewhere else, then we'll see what happens." If you would like to join next year's boys basketball squad, please contact Coach Belou at [email protected].