Happier Than Ever, Billie Eilish
Is this her best work yet?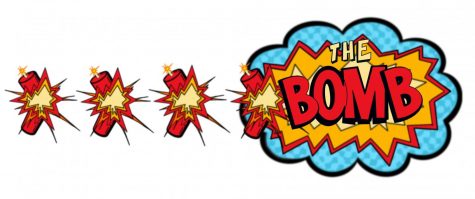 Happier Than Ever is Billie Eilish's second studio album. It was released on July 30th, 2021 and was produced and co-written by Eilish's brother Finneas. The album has sixteen tracks, and she released five singles before the album was released. It can be found now on Spotify, YouTube, and Apple Music. 
This album goes on a much deeper level than her previous work, and it gives us a peek into Eilish's emotions and the situations that she's been in. It also shuts everybody up, because it shows that she can do so much more with her voice than just some ASMR-type of thing. She goes full out on this album.
Eilish's previous release, When We All Fall Asleep, Where Do We Go? was extremely well received by the public. The album received five Grammy awards, including Album of the Year. This obviously set high expectations for Eilish, and when she announced that she was releasing her sophomore album, nobody was expecting this kind of departure. There is such a big difference between Happier Than Ever and When We All Fall Asleep that it is hard to believe that they came from the same artist.
Happier Than Ever is more of a story album, which is interesting, because Eilish is normally quite private. This album talks about her stalker, which we all know about, and the ugly parts about dating in public. It gives us a trip through her fame. It sounds as though the album is a part of Eilish's healing process, as well as a venting place. It is much more than I expected, because you get a different sound in each song. You even get two different genres in one song, and each song expresses a different emotion. 
The album starts with a track called "Getting Older" which, as the title suggests, is about Eilish growing up, but it goes much deeper than just age. Even though she does refer to her age, she also talks about maturity. 
The song also talks about abuse, being stalked, responsibility, and relationships. In the outro, she reveals her fear of being this open with the public: "Was too afraid to tell ya, but now, I think it's time." Even though she's scared, Eilish feels like it's time to say things that she's been too afraid to reveal before.
The second track, "I Didn't Change My Number", has such a good beat. It is about a past relationship and how she chose to stop replying to certain people. On her previous album and her EP, don't smile at me, Eilish also has discussed phone calls and texts to previous lovers. 
Some lyrics on this track might be related to other songs on this album. For example, the line "I gotta work, I go to work" is similar to a line in "Lost Cause", which states that her lover doesn't work while she does. Therefore she feels that she doesn't have time to deal with him. His unemployment is referenced in various lyrics from different songs on the album as well.
"Billie Bossa Nova" has a similar beat to "b*****s broken hearts", which is a kind-of-upbeat-but-kind-of-not type of melody. It is overall soothing and calm, and it talks about an affair with a mysterious someone in a hotel. 
In the song, both Eilish and the mysterious someone use false identities to meet each other without people knowing. "Nobody saw me in the lobby," she sings. This track does talk about a certain attachment to a person, without actually feeling something towards them besides that attraction. It might be referring to a one-night stand, because she says that she loves how it comes by without her having to wait for a lover to come her way.
Another song, "OverHeated", hits hard, not only with the beat but also with the lyrics, which will blow your mind. This track refers back to when the media was criticizing and sexualizing Eilish because of her body. She is also 'calling out' celebrities for portraying such an unrealistic body type for females. 
This track is kind of a continuation of "NOT MY RESPONSIBILITY" which also talks about self-image and self-worth. The song essentially narrates the events of how the famous picture was taken as well as saying that she won't change her body by saying, "'Cause I'm not about to redesign myself now, am I?" 
Eilish also questions the option of getting surgery, since people wanted her to fit 'the ideal body type'. But at the same time, she criticizes people who've gotten surgery to fit those standards.
The eleventh track on the album is called "Everybody Dies", which can make you shed a tear or two, depending on how sentimental you are. As the title says, the song talks about death and the thought of you and everyone dying. This might be the best track on the album. 
Eilish tries to comfort the listener, but she also reminds them of the harsh truth that everything ends, and you must enjoy life while you're still here. The song vocalizes Elish's thoughts about death, and she wonders if eventually there will be another way of dying. She also contemplates waiting for the moment of her death and wondering how that's going to look. 
"Your Power", which by now most people have heard, talks about an abusive relationship and an age gap. People say that the song talks about Eilish's ex-boyfriend who was older than her because they dated for a year and broke up in 2019. However, Eilish has said that "it was not about a specific person." 
The lyrics and the music video for this song create an incredible representation of how she felt while being in this relationship. If you pay attention to the lyrics, you can see how much this relationship affected her and the mentality that she had. Her partner had complete control over her, and she asks, "Does it keep you in control? /For you to keep her in a cage?"
Finally, the album's title track, "Happier Than Ever", is such a powerful song, not only because it's so different from anything she's done before, but because of the progress that she has shown throughout the album. This song is about how Eilish is healing, and this can be proven by the second half of the song and the lyrics. 
As well as in "Your Power", the lyrics and the music video for this track truly complement each other. The song's structure is really interesting, because the first half is calm, and the lyrics are passive. Eilish just expresses how she felt happy without that person. On the other hand, the second half of the track is like a whole different song, not only because of the melody but also because the lyrics are a bit more aggressive and descriptive. 
Overall, this album is great, as it has different genres and shows a different side of Billie Eilish. Every song portrays a different emotion and situation, and the different beats that the album includes are very catchy. This is not a regular album about ex-boyfriends and loneliness; this is very different from her previous work in every way. I would encourage you to listen to Happier Than Ever because you will not be disappointed.
And if you like this album, you should listen to her previous album When We All Fall Asleep, Where Do We Go? or you can check out Sour by Olivia Rodrigo.