WandaVision "Episode 2: Don't Touch That Dial"
Our second in a series of reviews of every episode of WandaVision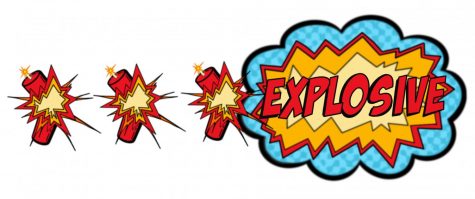 WARNING: SPOILERS AHEAD!
My brain hurts. 
We have moved to a different decade, with the outfits, style, and opening credits mimicking that of the 1960's show Bewitched. 
After the commotion from a loud noise the night before, we see Vision as a magician named Illusion (uh….)  and Wanda as his assistant named Glamour as they practice for the local talent show. They purposely make their act incredibly obvious, because they wouldn't want to blow their cover, of course! 
Wanda then goes outside, and sees a red toy helicopter in a bush. This would be normal, except that everything is black and white. Agnes, whom many are predicting to be Agatha Harkness, comes to see Wanda. She warns her of Dottie, who is essentially the queen of all PTSA moms. Agnes questions Wanda about having kids in the future, which is suspicious in regard to Agatha's comic past. Wanda learns that to get anywhere in town, you must first get on Dottie's good side. 
With a group of women at the Westview pool, we see Wanda practicing her tea party etiquette to impress Dottie, who tells the girls of their goal to raise money "for the children." The ladies all echo back in unison. Beside her, we meet Geraldine, who at first hesitates to name herself. This has already been confirmed to be Monica Rambeau, the little girl from Captain Marvel. What she is doing in this reality is unknown, and she clearly is confused as well. 
Vision is off to the library, with hopes of meeting with the town's men to bring some serious safety precautions, after the loud thud he heard the night before. He quickly noticies that safety is not a topic discussed at these meetings. His attempt to fit in with them causes him to call Norm "a communist." The men pause, then continue hysterically laughing, and give Vision gum for being funny. Keep in mind, Vision is not human. 
In efforts to remain on good terms with Dottie, Wanda attempts to chat, but Dottie is clearly scared. Then we see a break in the storyline, hearing cuts of "Wanda? Who's doing this to you?" from the voice of Jimmy Woo from Antman. A glass breaks and Dottie's hand is cut, bleeding red, despite the fact, once again, that everything is in black and white. In each scene break of this episode, we either see the color red or hear the accusations of someone being a communist. Does this mean something for the show, or is this just a coincidence? 
My favorite part of this show would have to be the commercial breaks. In this episode, we see a classy advertisement for a watch called "Strücker." Looking back to Age of Ultron, we know the name of the HYDRA agent who held Wanda is named Strücker. To add to the spice, the watch itself is actually HYDRA branded. This probably, probably, doesn't mean too much. Or does it? I am not sure, Marvel is always suspicious. 
The gum he ate has clogging up Vision's gears and have made him just a little off. In their performance for the talent show, he is actually using his powers. Wanda frantically tries to sabotage their own performance out of fear that it'll be too good. In the end, they are congratulated for having a hilarious performance. Dottie reminds everyone again of their cause, and the crowd speaks in unison by responding, "For the children." 
Back at home, Wanda has abruptly grown a baby belly, and both are excited for what is to come. Then they hear that noise again, the same one from the beginning of the show. Except this time, they actually see something: a beekeeper leaving the manhole in the middle of the street. Wanda responds, "No," which causes the episode to suddenly rewind, and she and Vision end up back in the living room. The show ends again with the words "Wanda? Who's doing this to you?" 
It is clear that Wanda is controlling her own reality. With a simple "no" she alters her own timeline, allowing only what she wants to see. Not only that, Wanda is now pregnant. With the random "for the children" mentioned throughout the show, and the history of Agatha Harkness, we are worried for the safety of her kid(s) and what this means for the future of the show.
All in all, Episode 2 is incredibly eerie and ominous. We'll see what happens in the next episode!