Chevy Knoll's Luke Johnson and Colm Daly Want to Get into Grooves
If you're a student at Glendale High School, then you've probably heard about Chevy Knoll. Seniors Luke Johnson and Colm Daly represent one-half of this band, keeping the essence alive at GHS, as other members, Michael Dadayan and Owen Veloz, have graduated. Even through distance learning, the bandmates have found ways to continue making music. 
Chevy Knoll officially got together about 2 years ago, and since then, they have been making music and putting on shows. Michael and Owen were the "instigators," as Luke puts it, and after learning that Colm played the drums, they all got together. They met up at Owen's house, on a street named Chevy Knoll, and then the rest is history. 
With their love for music and instruments, the members are incredibly flexible with who plays what. Luke mostly plays bass, while Colm and Owen switch off playing guitar and drums. Through it all, Michael stays consistent as the lead vocalist. They tend to do everything together, making decisions in Luke's garage/studio. They joke about spending more time in their studio than "in each other's houses." 
Their writing process involves getting "into grooves" in the studio, meddling with their instruments until they like the way it sounds, and then developing it "slowly until it snowballs." Whether it takes thirty minutes or seven hours for them to finish one song, they work together to keep the momentum going. It helps that their studio is hot and uncomfortable, as it encourages them to finish quickly and get out. 
The band doesn't fall under any specific music genre, and they don't like to limit themselves on one type or category. This goes for their music tastes, too. They love listening to different artists under different genres. They spend most of their time "sharing music" with one another. They don't get inspiration from any set band, but instead they listen to new songs and "implement new things" in their music. 
Chevy Knoll has played at numerous events, from school activities like Round Up and Variety Show, to house shows and parties. They've also played at Evolution Music Conservatory (EMC), where Luke talked to the man running the venue and got them a gig. With this, they scrambled and wrote eight songs in one month, with those songs being the tracks on their album. 
A couple months into quarantine, the boys decided that they would quarantine together, blocking off contact from people besides themselves and their families. From then on, they spent "almost every single day" making music together, because "that's the only way." 
With bands and artists in different parts of Glendale, they have noticed that Glendale High tends to not have a "music scene." The boys hope to "bring people together in the Glendale area and push for a more artistic scene." 
After meeting new people and new artists, Colm and Luke hope to collaborate with many other musicians. They also create no boundaries and have made it their aspiration to collaborate with "every single artist ever." The band hopes to get a project going one day where they can collaborate on an album with their other musician friends.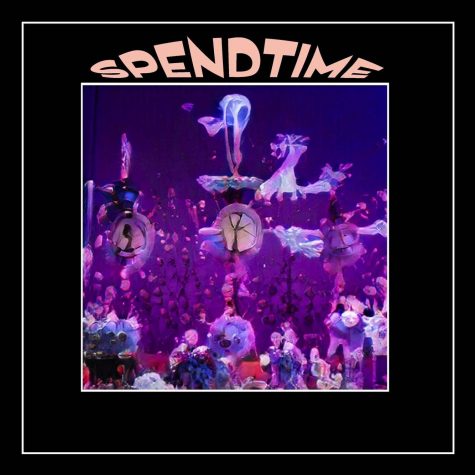 As  Luke and Colm plan the end to their senior year, they have an "infinite" amount of hope for their band's future. They aspire to be famous enough to meet the bands they look up to. They want to sell out a venue and release as many albums as possible. On their personal paths, Luke is thinking about wanting to study music management so that he can stay connected to music "without having to learn theory." Colm, on the other hand, is set on applying to go to school in San Francisco, where many of his friends are going. There he hopes to stay connected to everyone "as much as [he] can." 
With talks about the past, present, and future, the band is excited to mention the release of their most recent song "Spendtime" on all streaming services, including Apple Music and Spotify! Check out their song and make sure to support them through their musical journey!