Laurah Chau Keeps on Running
Laurah Chau was born and raised in Glendale. Her parents fled from Cambodia because of the Cambodian genocide, and they looked for shelter in the United States. Her current plan is to move out of Glendale after graduation but to stay near the Los Angeles area. During her free time, she enjoys reading books, watching TV shows and going on runs.
Laurah joined track in eighth grade, because it is much simpler compared to other sports and she only has to rely on herself. Track also helps her release her excess energy. On the competitive aspect of the sport, she enjoys how boys and girls both compete at the same time, instead of having two separate seasons for each of them.
Volleyball is another sport Laurah enjoys playing. She likes the general way volleyball is played and the flow of the game. The reason why she did not want to join our GHS volleyball team was because she realized that she liked running more than playing volleyball.
Overall, the part of track that Laurah enjoys the most is the meets. The feeling of being there with her team gives her a competitive spirit, and looking at other people run keeps her on her toes. She also enjoys the time spent with her friends during these competitions.
Invitationals are also a big part of Laurah's enjoyment of the sport, because so many schools gather up in one place, and it gives off the feeling of competition that inspires her to do better. One little thing that she loves about invitationals are the food trucks because they offer great food.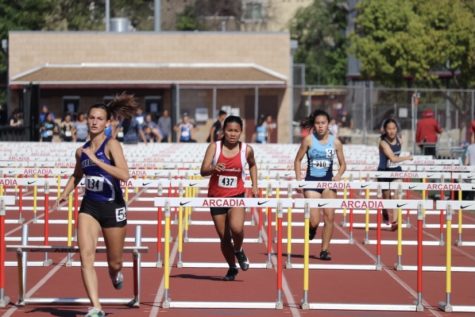 One of Laurah's greatest accomplishments is that she took third place in the all-girls 100 meter hurdles in Glendale High School's history. It was a close run, with Laurah being just 0.1 seconds behind the second place person and only 0.5 seconds behind first place.
Laurah gets a bit jealous of the athletes who compete in other sports, because there can be some days when they don't have practice, but all the track team members are always staying for sixth period every day from start to finish, no matter the circumstances.
A problem for Laurah is that it often feels like new track members do not treat the sport as seriously as they should, which gets her frustrated.  However, she tries to push them harder, so that they will be prepared for working out intensely.
At the moment, Laurah thinks that the track team has stagnated during covid-19. There isn't much progress being made at this time and the fact that probably not all people are working out really puts the whole team behind. We wish the very best for Laurah Chau and for all of her track teammates!