The Japanese group, BABYMETAL, makes music like no other kawaii metal band does. 
Yes, you read that right.You would never think that kawaii and metal would ever work together, and neither did I. But it will surprise you. 
BABYMETAL was first formed in 2010, and the band has since been releasing music and performing all over the world since 2015. The group consists of three members, Su-metal (Suzuka Nakamoto), Moametal (Moa Kikuchi), and Yu-metal (Yui Mizuno). Although Yu-metal had left the band in 2018, due to personal reasons, they have a new member to replace her, named Momometal or Momoko Okazaki. 
BABYMETAL released their first self-titled album in 2014, and it consists of 14 tracks. The most popular song from this album is "Gimme Chocolate", and this song will definitely leave you confused in a good way. 
The way that this band balances the metal with the kawaii on this track is just perfect. Although there is a deeper meaning to this song, "Gimme Chocolate" is really about eating disorders, and how girls are afraid to eat chocolate because they'll gain weight. I really enjoy how they are able to incorporate that idea into their music. 
Even though that track might be more popular, the song "Doki Doki Morning" really introduces us to that kawaii metal sound. It starts off all cutesy, but then it turns into hard metal, and it just gives you something that you didn't expect.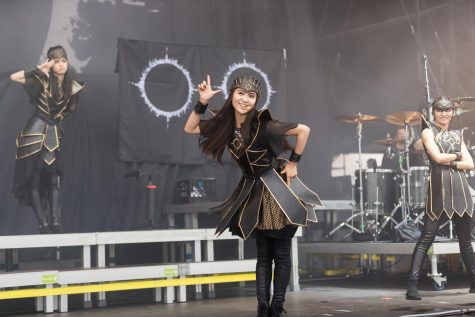 Since their debut nine years ago, BABYMETAL has released three more albums, with various singles sprinkled in there. They have been doing amazing work, with shows all over the world. 
If you are the type of person who is drawn more towards metal music, you will definitely like "Kingslayer" by Bring Me The Horizon, which BABYMETAL is featured on. You will also enjoy "Headbangeeeeerrrrr!!!!!" and "Megitsune", because these tracks definitely show more of the band's metal side. But if you don't really prefer metal, I would recommend "DA DA DANCE" and "Elevator Girl", as these songs are more toned down from all the metal and screaming. 
I really admire how BABYMETAL always finds a balance between their metal sound, screaming vocals, and kawaii sensibilities. I think that what they have accomplished is really impressive. All their music flows, and you can tell they have a lot of fun performing it. 
I also find it very silly that these three young women (plus their bandmates) can sell out whole stadiums full of people who just love them. Again, you would never think that these conflicting genres would go well together, but they do. 
Even though it still confuses me how BABYMETAL has pulled off their amazing career, you should still check them out now! (At least do it for my own sanity.)