Book Club president, Leona Khodabakhshi, is a senior at Glendale High School, and she was born in Tehran, Iran. She has been a Nitro since her freshman year, and she has been a part of an incredibly peaceful group, the GHS Book Club, for almost four years. She also enjoys painting and reading. 
Leona is on the lacrosse team, and she is currently serving as the ASB Director of Fundraisers. She is the treasurer of the National Honor Society, and she is also the treasurer for Future Doctors of America. 
Leona first became involved in Book Club because a friend of hers was the president during her freshman year. During her sophomore year, Leona became the vice president. 
"I got interested in the club because I like reading for fun, not just having to read and write an essay about it for class," Leona said. She also enjoys reading and sharing that activity with other people. 
For Leona, the purpose of this club is to create a community where you can just read for fun, and also share your thoughts and opinions with other people.
During club meetings, members will "discuss and summarize what happened in a specific chapter." One cabinet member will talk about a single character and their life story. Other members will then pick a passage that they liked in the story, and talk about why it is interesting.
Book Club couldn't hold many activities last year, because of Covid-19. However, if there was a movie or something related to a book, they would make an activity out of it. "We'd call on Zoom and watch it together, or sometimes on our own," Leona said. 
Last year at the Glendale Public Library, there was a Teen Fair, "where we set up a game for kids to come and play." Leona is not positive that there will be another fair this year, but she hopes there will be one the following year.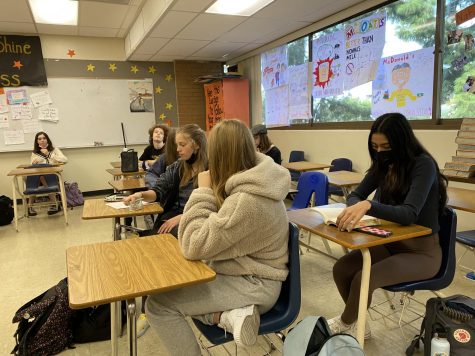 One of the hardest issues for Book Club members last year was that not many people were attending the Zoom meetings, and some members were not motivated to attend and read their books. But Leona's favorite part of being the president of this club is "bringing people together, and sharing their love for reading." 
Leona believes that Book Club will benefit people who love reading "because usually when you have a passion for reading, you're called a nerd and for people it's a bad thing." But she feels that Book Club "is about sharing your love for books, and no one will judge you." 
GHS students who like reading, but are afraid to be judged or insulted, should join the club. They should feel free to be a part of a community where you grow and share your love for books. Leona wants you to know "that it is open to anyone who enjoys reading." You should tag along, have fun, and share your thoughts and opinions about books! 
"I think Book Club is on the right track," Leona said. "We took a hit during the pandemic, like many other clubs." Fortunately, Book Club has been able to find a committed community this year. 
Leona's goal this year is to get through at least 6-7 books, which is an awesome goal to have. She is also hoping to visit the Glendale Public Library as a club. Leona is hoping to major in Biochemistry in college, and then she wants to pursue a career in pharmaceuticals. "If my college has a book club, I'll definitely join!" she conveyed with excitement. 
If you are interested in joining Book Club, please contact the advisor, Mr. Gebeshian, at [email protected]. You can also follow their Instagram page @ghsbookclubboiz or check out their meetings on Thursdays and Fridays, in Room 2237.