Nicole Duarte Hopes to Crack the Code
Coding Club president wants to keep programming relevant at GHS
Nicole Duarte is a sophomore at Glendale High School, and she is now the president of the Coding Club on our campus. Nicole is also serving as secretary of the Best Buddies Club, she is a current staff writer for Explosion, and she is a member of the girl's JV soccer team. In her free time, Nicole enjoys reading, spending time with family, or just simply stepping outside for a breath of fresh air. 
Nicole joined the Coding Club during her freshman year, but she was not able to be a fully active member, due to other commitments. She was asked by last year's president, Brielle Mailed, to be president this year, and she didn't want to let her down. "Brielle worked hard to keep this club going," Nicole said, "so I didn't want to let her efforts go to waste." 
Nicole previously did some coding in middle school, and she enjoyed it, once she got the hang of it. Even though Nicole has just started to code, she is hopeful that more people will join her club and learn about coding.
Coding Club members use a program called Scratch, which is a block coding program. Nicole and her club members also interact with a program called Girls Who Code, but she wants this club to be inclusive and hopefully, all people at GHS will give coding a try. Nicole hopes "to move on to text coding and different programming, such as cybersecurity," which may cause more interest for people considering that field in their future.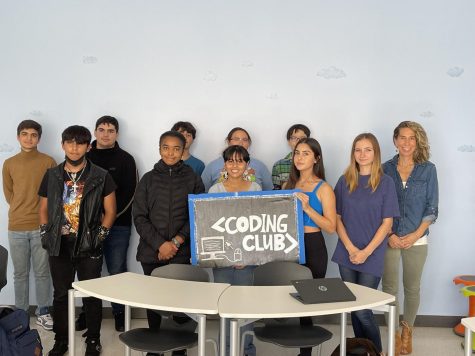 Nicole holds Coding Club meetings twice a month, just to work on coding projects, and members can also get used to coding in the first place. One meeting each month usually introduces a new coding project, and the second meeting allows members to showcase their projects. Nicole also includes some icebreakers in her agendas, just so that members feel more comfortable in the space. 
Nicole, and her newly appointed vice president, Maneh Alumyan, "are trying to encourage more people to attend." This is one goal that she hopes to accomplish soon. 
Nicole believes that, if she really takes an interest in coding now, she may also consider it for her future career. However, she is just very happy to do coding projects for fun right now and learn how to improve her skills.
While Nicole is still learning the ins and outs of the Coding Club, she is honored to be able to take over this club and carry on this tradition on our campus. If you have any questions about Coding Club, please contact Ms. Tamara Johnson at [email protected], or follow the club on Instagram. 
Get with the program, Nitros!