Ethan Faria is Working Behind the Field
Senior defensive standout believes that his football squad has become his family
Ethan Faria is 16 years old and grew up here in Glendale. He is a senior now and is currently wearing Number 21 on the Glendale High School varsity football team.
Before coming to GHS, Ethan played for his flag football team at Roosevelt Middle School. He enjoyed his time on his middle school team, and he also played other sports there as well. Many of the flag football players from Roosevelt came to GHS and also joined the football team along with him.
Ethan first became a part of the Nitro football team as a freshman, but he wasn't able to play the whole year. "I would leave the team and come back mostly every year, but now I'm sticking to it," he said. 
However, Ethan had a good reason for his absences as a ninth-grader, as school and homework were really getting to him. He added, "I couldn't manage everything, and it was giving me a lot of stress." As of right now, though, he is doing fine after taking some time and being able to balance football, school, and work all together.
Ethan's decision to get into football was because of two NFL players he would watch on TV. "Tony Gonzalez and Joey Bosa are who inspired me to get into football," he said. Gonzalez used to play for the Atlanta Falcons as a tight end, but he retired back in 2013. Bosa is currently playing as a defensive end for the Los Angeles Chargers. "The main reason why I joined football was that I loved to watch them play," Ethan said, "and I'm actually playing…their positions right now."
Ethan admits that he felt unsure of himself when he first joined the team. "I was definitely nervous at first, but many of my friends from Roosevelt were joining the team with me," he said. "So I thought it couldn't be that bad, since there will be people I know." He added, with a laugh, "But it was still pretty bad."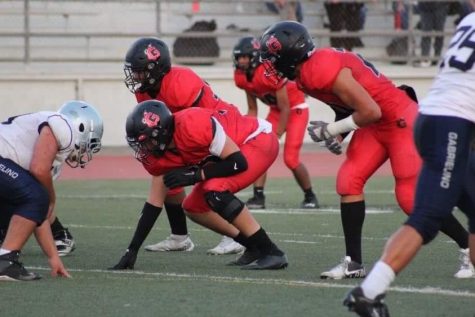 The football players who were already on the team made Ethan feel nervous at first, because of the impressions they gave off. But after he got to know everyone better, he saw they weren't as mean as they first seemed.
"At first you would think everyone hates you or doesn't like you, just because you are new," he said. "But once you bond with them, and get to see what's really going on, we are all just dudes who want to have fun and play football with friends, or who I consider family now."
On the other hand, Ethan admits that football practice can be difficult. "It's not fun," he said. "Every time we mess up, we would either have to run or do push-ups, but at least with my friends, it isn't so bad." 
Ethan and his teammates have practice four days a week, from 4:30 to 7:00, and Fridays are usually game nights. Most games typically last from around 7:00 pm to 10:00 pm, depending on how the game is going.
Ethan feels that football games do take a toll on him. "The games are very tiresome. Mostly all of the time, I'm exhausted afterward and just want to go home and eat," he said. "During the game, my heart is pounding and I have a lot of adrenaline rushing through me."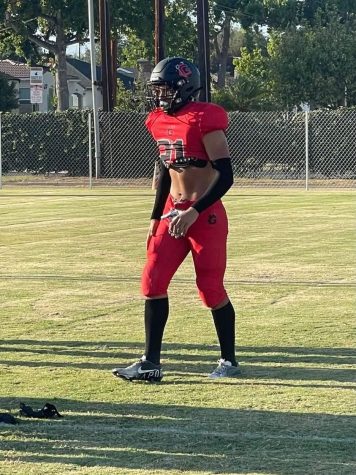 One important thing for Ethan is that he has to stay focused no matter what. "If I lose track of what is going on, then I am a liability to the team," he said. "But I also have to rely on my team and make sure everyone is doing what they are supposed to because they are also just as nervous as me. And if we all lose focus, then everything messes up." Although he makes it seem like the games are really nerve-racking, once Ethan is in the moment, it's the most fun he ever has, whether they win or lose.
Overall, Ethan has high hopes for the team once he leaves high school. He believes that next year's players will continue competing in this amazing sport and carry on the legacy that he and his friends will leave behind. 
"Depending on if I get signed by a scout and they want me to play football for their college, I will most likely go for it," Ethan said. "But if not, then football isn't something I want to pursue in my future. I am most likely going to follow [the] other dreams or career paths [that] I have in mind."