Melinda Khechumyan Is Totally on Board
Our ASB President, and GUSD student board member, is devoted to assistance.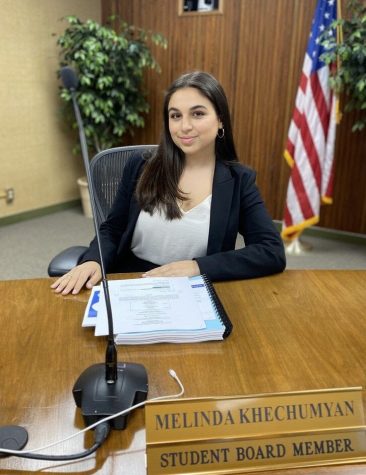 Melinda Khechumyan is the current President of Glendale High School's Associated Student Body, or ASB. In addition, she also holds the role of Best Buddies Club president and co-president for the Adopt-A-Family Club. Melinda was also recently elected Student Board Member for the Glendale Unified School District.  
Melinda is 17 years old, and she was born here, in Glendale. She was also a member of our Dance/Drill team for three years, including one and a half years as a captain. 
Melinda was also a member of last year's Explosion staff. In her free time, she enjoys reading, spending time with family and friends, watching movies, running, and watching the sunset.
ASB is, as Melinda puts it, "a group of kids that want to encourage campus spirit." They organize activities, like spirit week and dances, to further this goal. Most recently, they organized Club Rush, and they are now working on Round-Up, which will be at GHS on September 28. Other events, like the Homecoming Rally, the Homecoming Dance, and Movie Nights are also in the works.
Melinda's favorite part of being a part of ASB is the "family aspect of it". ASB is an opportunity to make friends and to meet new people, all of whom share a love for this school. It includes a diverse group of students, who have all "come together" to increase spirit and unity. 
Melinda's least favorite part of ASB is the stereotype surrounding it, specifically that ASB doesn't do any real work. "We really are doing a lot, and we're trying to make the school a better place," she said. ASB members are not lazy, and they really are working hard to make the school a better place.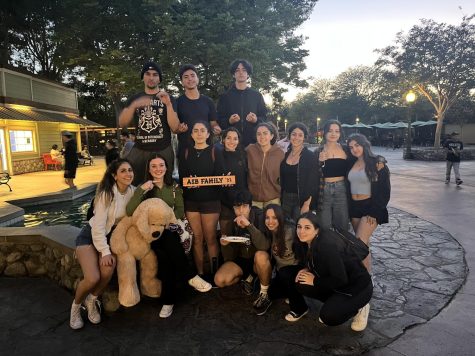 Melinda has always been interested in leadership, and she has always wanted a big role on campus. However, she didn't get the opportunity, or the votes necessary, to become a president until last year, and she took it, figuring that she would be a good leader. 
Melinda didn't take the normal path to become ASB President, as she was not class president during either her freshman, sophomore, or junior year. Instead, she had previously held the roles of Freshman Class Treasurer, Sophomore Class Vice President, and ASB Director of Rallies. She says that having different jobs in ASB has helped her have a larger view of things. These different roles have helped her to gain a broader perspective so that she can understand what is involved in these other jobs.
However, Melinda's dedication to leadership does not stop at ASB. In her role as the president of the Best Buddies Club, she plans all club meetings and events, and she even makes the buddy pairings. She says that she ran for the role of president in the club because she is a "big advocate for people with intellectual and developmental disabilities." As co-president of the Adopt-A-Family club, she hosts fundraisers, works with her co-president, Nahnor Ghazarian, to find ways to donate to families in poverty, and creates opportunities for club members to perform community service.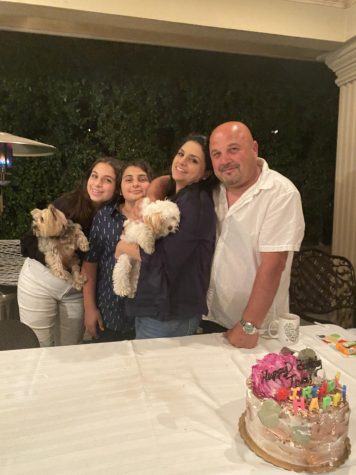 Melinda has no favorites among the four roles she holds, and she loves them equally. Each of them fills a different need and serves a different community, and really it's the act of helping that she loves best. 
Melinda has had a lifelong commitment to altruism, having a history of volunteering that reaches back to early childhood. When she was only 7 years old, instead of asking for Christmas presents for herself, she started a holiday charity event, asking people to give her pairs of shoes for Bags4Kids. There was a brief period when she couldn't conduct this charity, as Bags4Kids stopped accepting donations during the pandemic, but now she's glad that she can help impoverished kids once more. 
Melinda says that she plans to leave behind a legacy in ASB that will allow GHS to "grow with the future." She wants the entire school, "no matter race, gender, sexuality," to come together, show spirit, and enjoy the events hosted by ASB. 
If you would like to learn more about our GHS ASB, follow them on Instagram @glendaleasb, email Mr. Livingston at [email protected], or stop by Room 6202 during snack or lunchtime. If you are interested in joining the Best Buddies Club, please contact Mr. Rosales at [email protected], and if you want more information on the Adopt-A-Family Club, please email Ms. Barboza Flores at [email protected].