BTS Grammy Performance
A breathtaking set by the most famous boy band on earth
BTS was invited to perform at the 2022 Grammy Awards in Las Vegas on April 3, and the group was nominated for Best Pop Duo/Group Performance. They also have four upcoming concert dates in Las Vegas. Despite all of the members having tested positive for covid recently and one of the member's hands being injured, they put on a phenomenal Grammy performance. 
 BTS performed a never-before-seen version of their hit song "Butter". If you haven't watched their performance, do it now (if you can find it)! This version of "Butter" played into the theme of spies, and their set for the stage was absolutely incredible. It was a museum setting and involved a plot of trying to steal a piece of art, with a Mission Impossible feel. The most exciting part for ARMYS was the new dance break, which was one of the most creative parts of their performance. 
The other key part of their performance was the opening. Member Jungkook made his way onto the stage by flying in. Then some of the members were out in the seats where all the celebrities were sitting.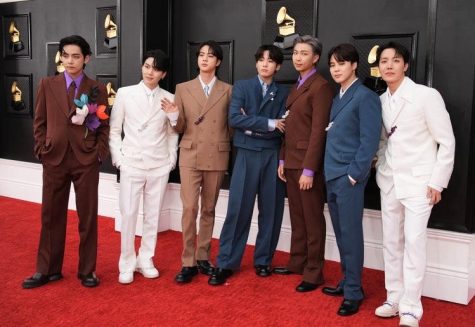 The member that brought the most attention to everyone watching was member Taehyung. He was sitting next to Olivia Rodrigo and they were the talk of the night. Taehyung whispered something in her ear and then threw a card to Jungkook. There were already memes made of the interaction between the pair by the end of the show.
This performance showed the hard work that BTS puts in for its fans. Even though they didn't win a Grammy, they kept it positive. With their four upcoming concert dates in Las Vegas, they have a lot to look forward to. ARMY members hope that BTS gets nominated again and hopefully takes home a Grammy next year.