Ms. Westrup Has a Plan for Nitros Who Need Support
Our new MTSS counselor offers help to students at GHS
PLEASE NOTE: Ms. Westrup is no longer an employee at Glendale High School, but we are hopeful that another member of our staff will soon take over the MTSS program.
Ms. Alicia Westrup recently graduated in April of this year from the University of Redlands, where she earned her Master's degree in School Counseling. She had previously earned her bachelor's degree at the University of California, Santa Cruz. Born in Chino Hills, California, Ms. Westrup is now the MTSS counselor at Glendale High School.
MTSS, or Multi-Tiered System of Supports, is a framework consisting of three tiers, whose purpose is to provide assistance to students struggling academically, behaviorally, or both.
"In a school, you can think of a triangle and the bottom is 80% of students," Ms. Westrup said. "They're going to get all the general class instruction. But then, maybe 15% of students will need Tier 2. That's like additional support. And then Tier 3 is 5% of students who need even more support."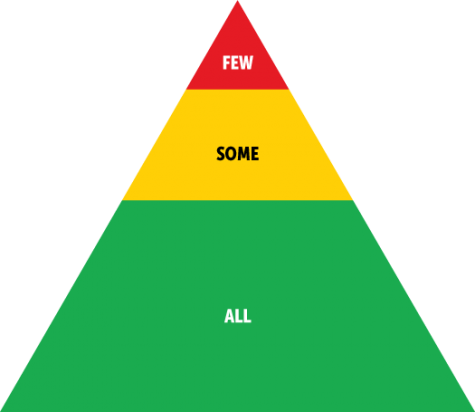 Ms. Westrup is going to be working primarily with students in Tiers 2 and 3. Teachers will refer students to her, who are struggling academically, and she will meet with them individually. Then they'll work together in small groups. 
"Just getting students together, talking about what's holding us back from succeeding, or what are some study skills that we can implement to help us succeed in school," she said. "There's the individual counseling piece and then the small group counseling piece as well."
Ms. Westrup would also like to implement an intervention called "Check In, Check Out", where she would have the students she's working with "check in" with her every school-day morning.  
"We would review their goals for the day, and then I would provide encouragement for them," she said. "Then throughout the day, they would get feedback from their teachers if they were staying on task and meeting their goals. And then at the end of the day, they would get to 'check out' with me."
Ms. Westrup has a clear inspiration for her involvement in this program. "I've always loved working with youth, kids usually, and so I knew I wanted to go into that field for my career," she said. 
"And then I also just really like the mental health piece of it also, so I was thinking about how [I could] mesh the two. And I considered teaching, considered mental health counseling, but I kind of thought that school counseling was the best of both worlds." So that is why she went into counseling.
If you have any questions about the MTSS program, or if you would like to reach out to Ms. Westrup, please email her [email protected]. Mental health should be a priority for all of us!