Experience a Great Year at GHS with Brandon Doronila
Brandon Doronila is a junior at Glendale High School. He was born in Glendale and currently resides here. Brandon is involved in our school's ASB and is currently serving as Junior Class President. When Brandon is not doing schoolwork, he likes to hang out with his friends.
Brandon has always found it interesting to be in the student council, even in elementary school. He said that this evolved into joining ASB in middle school and then later in high school. Brandon found that it helped him to meet new people and get involved in a lot of school activities.
Brandon has said that he joined ASB because he wanted "to be the voice for the people who couldn't speak up for themselves." He said, "Everywhere around me, there are people with great ideas and people who want change but they don't know how to bring it up." 
Brandon wants students to have their voices heard, and this goes with his passion for student government. He said that it was well for what he liked doing and what he wanted to do.
"ASB in middle school was just getting my feet wet," Brandon said. "It was fun, but as middle schoolers, there wasn't really much to do or talk about." Brandon was the ASB president at Wilson Middle School, and this prepared him for the larger tasks here at GHS. 
Even though Brandon is currently the Junior Class President, he didn't jump right in after middle school. Brandon said that his schedule was tight as a freshman, and so he waited until his sophomore year to join. "It was a really big help being surrounded by officers who could teach me the ins and outs of ASB and the school," he said.
As class president, Brandon takes care of everything related to rallies, Oratorical, and fundraising, in order to fund the Prom and Grad Nite for his senior year. This year, Brandon said that his responsibilities will be hard because of the ongoing pandemic. However, he said that he will not let this stop him and the other presidents, because they are going to do whatever they can to make this school better for all. 
Brandon said that covid-19 has affected him in terms of what he does specifically, because he runs meetings and he lets members pitch ideas. He wants everyone in the meeting to be as comfortable as they can be, and he is grateful for his energetic peers because they are what keeping him going. They started their first fundraiser and plan to do more in the later future. Brandon said, "The virus has made doing our jobs a lot harder, but we will continue to try our best so that we have a memorable high school experience."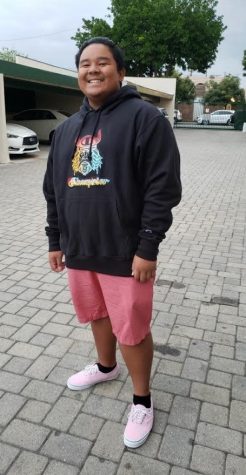 This year Brandon and the others are working harder to make sure that next year's seniors have a Prom. He said that junior year is the most important year in terms of making money and choosing your location, but due to the current circumstances, this has been awfully difficult. He and the other junior cabinet members hope that they will be able to make up a large amount of money to help them make next year's Prom happen. 
Brandon hopes that next year we will be able to come back to campus, and that he will be able to come back to make the rallies as good as they have been before. He also plans to make Homecoming equally if not better than the rallies, so that everyone can experience it together. After high school, Brandon hopes to be accepted into a good engineering school. He wants to be an aeronautical engineer for NASA since he's always been interested in space. Brandon wants to be a part of the team that makes future discoveries. 
Brandon's hero for the longest time has always been Elon Musk, because "he inspired me to pursue this career." After he has graduated, he hopes that the next group of kids will have a great time at this school, because GHS has always been a school about pride, excellence, and achievement. 
Since students come and go to this school, Brandon hopes that they all have a great time if not a better time than what he has during his time here. Brandon wants this school to continue to be great with everyone that comes and goes.