Carmelo Geron Is Gaming the System
Carmelo Xavier Geron is an 11th grader at Glendale High School. He was born in the Philippines, and currently, he lives in Glendale, California. He's the president of the both E-sports and MESA Clubs. He loves to listen to and play music. He describes his leadership style as "visionary and democratic". 
You should join our E-sports Club, if you're interested in learning how to play video games or competing and making new friends. And if you have a passion for STEM and Math or Science, you should join MESA Club. That's the whole purpose of those clubs: introducing these skills and making new friends. 
E-Sports Club is where kids can compete in video game tournaments against other high schools in the United States. They also promote teamwork and sportsmanship, and members can learn all sorts of things, like leadership and other roles. 
Similarly, MESA Club is an engineering organization, where students will learn about the properties of physics, and they will be competing in regional tournaments at Cal State LA. These tournaments allow MESA Club members to show off their projects that are related to engineering. 
Carmelo created the E-Sports club because this is the generation where a lot of people play video games, and the way they connect to each other is virtually, because of covid-19. Combining these two elements fits in the club really well. 
Carmelo is not the founder of MESA Club, but last year's seniors passed the club on to him, and he chose to run it because he has a passion for STEM. He has been in MESA Club since 6th grade, and he wanted to share his knowledge with others. He was also selected as an outstanding leader for MESA and in the California Regional Tournament, he competed under the Cal State LA Team. He took home 1st place for GHS and now he's just here supporting his fellow MESA members.
In the E-Sports Club, they give out curricular lessons, like communicating, being a leader, being healthy, and doing well in school. For the MESA Club, their plan will be to take a virtual field trip, and to focus on the projects for MESA tournaments that will be in March. Carmelo is also planning to discuss collaborations with Wilson Middle School and all the other schools, and perhaps they will come together and do some events. 
Carmelo is also the vice president of Nitro Music Club, and he is the treasurer for  the American Red Cross Club. Those clubs help Carmelo shape who he is because he enjoys music, making new friends, and communicating with people. These clubs help him develop his personality, they give him a chance to lead a group of people, and they help him to create a better world for himself and others. 
The members in those clubs taught him how to become patient, and how to communicate with people of different ethnic backgrounds. Also, they allow him to express his way of leading a group and to practice communicating.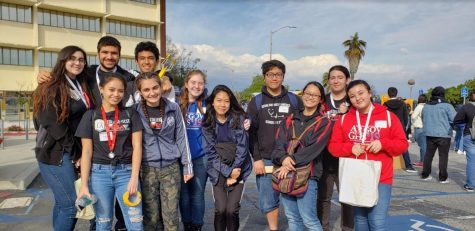 The biggest problem in MESA Club is that there are no in-person field trips or competitions; they're all going to be posted online because of what's happening today. In the E-sports Club, their problem is that the District won't allow them to play any kind of shooting games, so Carmelo and his cabinet members need to adapt and change how they should run the club. And as of now they have a limited amount of games that they can play and they just have to deal with it.
If a situation doesn't go as planned they're going to discuss every single problem that they're facing and come up with ideas or possible solutions and take those ideas and solutions to solve them. 
Carmelo is not sure about the future, because it's his first time running MESA Club and E-sports Club online. But, if there's no coronavirus in the future, he thinks that both MESA and E-sports have a high potential. He hopes that they can be the best clubs on campus, due to the high amount of participants and the purpose and topics of these clubs. 
After graduation, Carmelo wants to major in a STEM-related subject, so he plans to go to college and get a degree doing something to do with science and math.  His ultimate goal is to become a doctor.
Carmelo hopes that his knowledge of science and math as a high school student will help him become a better person than before. "Me involving other organizations and clubs just helps me be more comfortable with the community," he said. This will help him overall to become a better person and to communicate better with people. 
If you are interested in joining E-sports Club, please contact club advisor, Mr. Watter, at [email protected]. Furthermore, if you want more information about MESA Club, please send an email to Ms. Thompson at [email protected].