Ariga Safaryans and Samantha Waked Belong on the Drill Team
Being part of the same team, same squad, and same grade has connected these two friends.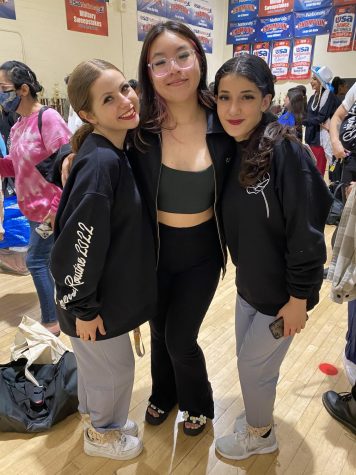 Ariga Safaryans and Samantha Waked have become friends this school year, but are already used to each other. They have known each other since last year, but during their sophomore year, they both became co-captains of the GHS drill team. 
Ariga was three years old when she moved to the United States from Iran, and she began her education here. Not only is she currently a captain on the drill squad, but she also served as Freshman Class President last year. Samantha is also a sophomore at GHS, and she was born in the United States. 
Both Ariga and Samantha have AP and honors courses on their schedules, and they are both excellent academic students. And yet they are still able to manage their time and have made a full commitment to the drill team. .
How do you join the drill team?
Ariga: In order to join drill, you must have the grit and determination. You don't need experience in dance to join the team. We encourage anyone interested to talk to us or contact Ms. Palmer for more information. 
Samantha: I came from dance class and was skeptical of joining the team, but soon realized that the environment and growing process was far more beneficial. It became one of the best parts of my life and I couldn't be happier.
What is something special that you enjoy while being part of this team?
Ariga: Being around people in dance, and dancing with your friends and people that support you, feels like a whole family. 
Samantha: Yes, it is very close-knitted.
Describe your experience so far on the drill team.
Ariga: It has been very good, as my life [has] improved for the better, and not only from dancing. I've [also] learned a lot about life skills that come up by being part of this team.
Samantha: It is definitely a lot of commitment, but it's very much worth it, because it's very fun and everyone supports each other, which makes us a family.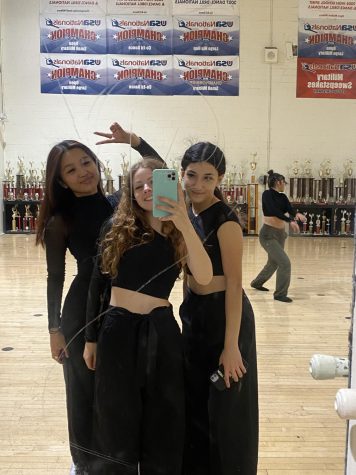 Do you face any challenges by being part of the drill team?
Ariga: In the beginning, it is challenging to manage your time and come to school at 6 A.M. You have to love this and be committed to it to want to show up at those times and be there for your team.
What aspect of your life would you like to improve?
Ariga: Strengthening our communication so that everyone on the team is on the same page.
Samantha: I think we have a pretty close relationship with everyone on the team, because we're so used to spending so much time together, and that relationship just forms naturally. 
What person on the team motivates you the most?
Ariga: [We are motivated by Sarah Reeser.] Her first year coaching was our freshmen year.
Samantha: She helps with everything.
Ariga: She helps us with navigating other aspects of drill.
What do you hope will happen to you after you graduate?
Ariga: My hope after graduation is to go to a UC school and major in kinesiology, to become a physical therapist. I also want to still take dance lessons during my free time.
Samantha: As for after college, I am looking into the veterinary field, and I hope to continue coming back and further expand my knowledge of dancing.
Is there anything else that you want people to know about drill?
Samantha: The whole experience of being part of the drill team at GHS is very fun!
Ariga: Yes! If you're a motivated person who is willing to be part of a big team, this place is for you!
If you would like to join next year's GHS dance/drill team, contact Ms. Kelly Palmer at [email protected]!