Bryant Marte Has the Spirit of 76
Varsity offensive guard is willing to sacrifice his own body for the team
Bryant Marte, a senior at Glendale High School, was raised in Georgia for nearly seven years, but he was born locally in Glendale. He enjoys working out and watching football when he has time to unwind. Bryant genuinely enjoys socializing with others, especially meeting new people and hanging out with his pals.
Bryant plays the position of offensive guard on the varsity football team, which means that he is basically the player front-and-center on the offensive line and protects the quarterback and running back at all times. In Bryant's case, he also tries to go upfield and hit the defensive linebackers. 
In the past, Bryant has also played as a defensive lineman and middle linebacker. To play in any of those positions, you need to be big and tall, but if you're fit and skinny, it won't quite work out. However, Bryant would rather play on offense, since he is trying to get into his dream football career, and he wants to stay as an offensive guard. 
This will be Bryant's second and final season playing football for the Nitros. He has been playing for a variety of different football programs for almost seven years, making this his fourth season overall. If you're wondering what his jersey number is, it's #76, so don't forget to shout your support for him loudly!
Bryant thought he needed to make some changes when he was just in middle school and wanted to live his best life. He chose to get into football with his classmates and kept doing it because his friends in Georgia had mentioned how essential the sport is to the people who live there. 
Overall, Bryant's mother has been the ultimate inspiration for him. She constantly inspires him to work hard and pursue a scholarship after graduating from high school. They always watch football together after church on Sundays.
Of course, Bryant would say that running into people during games is something he enjoys doing. He believes that a lot of football players may have the same response because the physical contact of the game is what drives them to play harder. Bryant enjoys the opportunity to block opposing players, even though he never intends to injure them.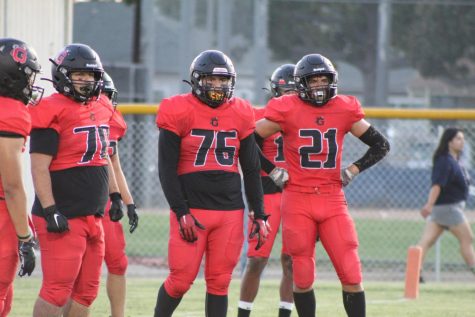 It is important that teammates get along with each other in most sports, but in football specifically, you must be able to trust your head coach and team captains. About four quarterbacks have played for our football team so far this season, and Bryant gets along nicely with each one of them most of the time. 
Because Coach Jacob Ochoa can rely on Bryant for everything, the relationship between them is very special to Bryant. Coach Ochoa has complete faith in him and knows that he will always put the team first. 
The absolute finest feeling in football is when you score a touchdown. In fact, Bryant accomplished that feeling last year when he made his first touchdown during a game. His coach had faith in him to do so, and as a result, everyone cheered and congratulated him. When you score for your squad, it truly feels as though you've just won the lottery or a championship trophy. Bryant was overjoyed with the work he had accomplished.
For most or all players, away games can be quite stressful. Of course, Bryant worries constantly about what will happen if they lose during any future road games. He makes an effort to ignore the fact that it is an away game because typically the home teams try to frighten and distract you. 
However, you have a better probability of winning at home than on the road. Since Bryant is a team captain, yelling and cheering for the squad gets the players pumped up and ready for the game. 
Since Bryant is a senior right now, he's hoping that after graduation he can attend the University of Utah and play football. He is aware that they have a strong football program, but he continues to make an effort to get their attention, in the hopes of getting his name added to the waiting list.
One of Bryant's biggest dreams is to play for the NFL. When he first began to play and watch football, he already intended to become one of those pro-football legends.
Bryant's all-time favorite team in the NFL is the Minnesota Vikings. Since the Vikings were in the playoffs a couple of years ago, Bryant has been a fan. Even though the Vikings are his favorite team, he really isn't into Kirk Cousins, but he loves the Bengals quarterback, Joe Burrow. His all-time favorite player has to be Alan Page, who used to play defensive tackle and is a legend and a member of the Pro Football Hall of Fame. 
Bryant will undoubtedly risk his body for his team, because he is truly passionate about what he does, especially if it benefits the team. Even if he has a fractured bone or a limp, he still plays and protects his quarterback.
Sadly, the current football season hasn't been too successful thus far. Everyone finds it difficult to lose, and since the team has new, young members, they sometimes feel like they let everyone and the team down. Although Bryant hasn't yet had a winning season as a Nit, he wants everyone to understand that Glendale can continue to improve. It's crucial to work hard for the team and for the community.
Nitros, please come out and support Bryant and his teammates during the Homecoming Game tonight against Hoover! Your Nitro football team needs your support!